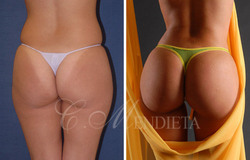 Miami, FL (PRWEB) December 8, 2009
Although the November 30th death of former Miss Argentina brings even more criticism to the world of plastic surgery, Miami butt plastic surgeon Constantino G . Mendieta, M.D., F.A.C.S. continues to promote safe practices. Speaking out about fat grafting, illegal body fillers, and how an individual can help to prevent a butt job gone wrong, Dr. Mendieta remains the go-to "booty" plastic surgeon for local, national, and international patients.
"All cosmetic surgery procedures pose potential risks and complications, and gluteal recontouring is no exception," Constantino G. Mendieta, M.D., F.A.C.S. emphasizes in response to the recent death of former Miss Argentina. Solange Magnano, a 37-year old model, wife, and mother of twins, passed on November 30, 2009 as the result of complications associated with her "gluteal augmentation" procedure.
Reports state that a certain liquid may have been used for Magnano's procedure. This raises a red flag in the eyes of Dr. Mendieta, because liquid body "fillers" can consist of various substances, many of which are highly dangerous for the patient.
"Although such fillers as silicone, hydrogel, aquagel and PMMP (polymethylmethacrilate microspheres) are being used overseas for butt augmentation, they are currently not FDA approved for use in the United States," says Dr. Mendieta, according to his plastic surgery blog. "The FDA is what controls the quality of what is standard and accepted, and it is done through clinical trials, research, etc. The major risk is that if it is not injected correctly it may go into the artery or the veins and the substances can travel to the lungs (embolism) and may lead to death."
Board certified by the American Board of Plastic Surgery (ABPS), as well as a member of the American Society of Plastic Surgeons (ASPS) and the American Society for Aesthetic Plastic Surgery (ASAPS), Dr. Mendieta specializes in what he defines as the standard for buttock enhancement: fat grafting. Through the transference of fat tissue from one area of the body to the buttocks, this all-natural material can provide beautiful results without the potential risks and complications that are associated with body fillers, and even silicone gel butt implants.
The fat grafting gluteal recontouring technique has a less than one percent chance of causing complications. It is described as two procedures in one, because it allows a person to lose fat from one or more problem areas and then transfer it to the buttocks in order to accentuate its shape. Dr. Mendieta's "Highlight Liposculpting and Lipo Fat Transfer" signature technique delicately re-contours the abdomen, waist, and hips, and then reshapes and lifts the buttocks using a 3-D approach.
The temptation of undergoing buttock augmentation with the use of body fillers may abound, however. But Dr. Mendieta protests the idea. Individuals who travel overseas for this type of butt augmentation may be putting their lives at risk.
"The attractiveness of butt fillers may be due to the fact that they are known to cost much less than fat grafting and butt implant surgery, and offer no downtime," also as stated on Dr. Mendieta's plastic surgery blog. "Many patients can look very good in the beginning; however, it may produce a disfigurement problem within five to 10 years from a foreign body reaction. These reactions occur because the products may not be as pure and have certain preservatives that can react later in life."
He goes on to say: "The other issues with these fillers are that there are currently no standards or monitoring system as to the quality of the product being made and many of these fillers are not as pure. They are often purchased in the black market or they look for the least expensive product."
According to Dr. Mendieta, discretion is key when it comes to finding a plastic surgeon who is said to be an expert in gluteal augmentation: "The plastic surgeon you choose for this procedure should be board certified with the proper training." Dr. Mendieta also understands how pricing may be a big determining factor to consider; however, he believes that with various financing programs available, the cost of plastic surgery should not be the first thing on a prospective patient's mind.
Safety tip number three from Miami plastic surgeon Dr. Mendieta: "The procedure should only be performed in an accredited surgical setting versus a medical spa."
###