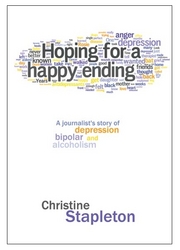 Here is the perfect cocktail for depression: Stress, financial insecurity, family gatherings, that Feliz Navidad song playing endlessly in your head...and alcohol.
West Palm Beach, FL (PRWEB) December 8, 2009
It took a lot of eggnog but award-winning journalist Christine Stapleton has finally figured out how to enjoy the holidays despite her mental illnesses: depression, bipolar and alcoholism. She shares her holiday experiences and much more in her new book, Hoping for a happy ending: A journalist's story of depression, bipolar and alcoholism.
Managing mental illness is tough any time of the year, but the holidays can wreak havoc on those living with mental illness. In Hoping for a happy ending: A journalist's story of depression, bipolar and alcoholism, Christine shares the best of her award-winning columns and her tips for enjoying the holidays without alcohol or fully functioning synapses.
"If you think shopping for your mother-in-law is tough, try holiday shopping for a friend in a major clinical depression. Now there's a challenge. You could buy this friend a winning Lotto ticket and it would mean about as much as, well, a piece of paper with numbers on it. Seriously, we lose interest in stuff when we're in a depression. This is a bonus for you holiday shoppers trying to save a buck. We're like a cheap date."
As a journalist for nearly 30 years, Christine is uniquely positioned to speak on mental illness and brings her passion for investigative reporting to her columns. More than a memoir, Hoping for a happy ending: A journalist's story of depression, bipolar and alcoholism explores a smorgasbord of topics ignored by the mainstream media. Nothing is off limits: salacious media coverage of mentally ill killers, celebrity substance abuse as entertainment and poorly trained, irresponsible doctors who kill with their prescription pads.
Written especially for the still sick and suffering, each column focuses on a single topic. "When I was in my black hole I could barely focus long enough to finish a sentence," Christine said about her writing style. "Simple words and short sentences were all I could handle."
Her columns - published weekly in The Palm Beach Post and distributed by Cox News Service and the New York Times Syndicate - regularly appear in newspapers throughout the U.S. and Canada and on numerous websites, including the corporate sites of Apria Health Care and Merck & Co.
Call now to arrange an interview and give readers and viewers a fresh, intelligent and unique perspective on mental illness.
About the Author
Christine Stapleton has been a staff writer for The Palm Beach Post since 1986. She distinguished herself as the paper's court reporter for 12 years, covering such notable trials as the William Kennedy Smith rape trial. She was among the lead reporters in the paper's coverage of the November 2000 presidential ballot recount and currently specializes in computer-assisted investigative reporting. She also writes a blog for PsychCentral.com, the Internet's oldest independent mental health website.
Among her many honors are two Robert F. Kennedy Journalism Awards and the Mental Health America Media Award. She is a senior fellow of the Knight Foundation and has appeared on numerous television and radio programs, including City Confidential, Inside Edition, CNN and the BBC.
Now available from AuthorHouse, Hoping for a happy ending: A journalist's story of depression, bipolar and alcoholism is available in paperback, hardcover and E-book at fine web book retailers, including Amazon and Barnes & Noble.
###