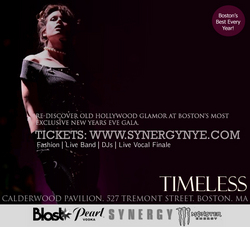 "Our goal is to create non-traditional events that will dazzle our guests. With everything that we have planned this year, our guests will experience a change from the typical night at a nightclub and truly enjoy their New Years Eve in a special way"
Boston, MA (PRWEB) December 9, 2009
The SYNERGY Events, the group that continues to redefine high-end events in Boston, today announced their party plans for New Years Eve 2010. On Dec. 31st, 2009, The SYNERGY Events will host its second annual Timeless New Year's Eve Charity gala in Boston at the Calderwood Pavilion Theater. Working with theatre consultants Fisher Dachs Associates and acoustical consultants Ascentech, this private venue will be transformed into a Gala with the best ambience, music, lights and sound to welcome 2010 with excitement and sophistication.
Hosted by Francesca Maxime, the Primary Nighttime Host/Anchor of the daily television newsmagazine, "Currents" on The NET in New York City, Timeless 2010 will start with a red carpet reception leading to the party room where Berkeley School of Music celebrities Project K Paz will entertain guests with their spontaneous music. As the night continues, New York City based vintage designer Karen Sabag will showcase her newest collection of couture gowns. Hair for the show will be provided by the two times Best of Boston winner Steven Doherty. As guests prepare themselves for a champagne toast and count down with New York City, singer/songwriter Lee Wilson will start the New Year off with high energy and music from his latest album followed by the hottest remix beats from DJ ILMADIK as guests dance their night away.
"Our goal is to create non-traditional events that will dazzle our guests. With everything that we have planned this year, our guests will experience a change from the typical night at a nightclub and truly enjoy their New Years Eve in a special way," says Reaz Hoque, founder of The SYNERGY Events. This upscale event, inspired by the 1940's glamour of old Hollywood, will begin at 9 P.M. and include many attractions including a red carpet photo opportunity, an exclusive VIP area, gift bags by national and local sponsors, complimentary appetizers, the best dressed male and female and much more. Admission tickets start at $65 and VIP tickets at $100. A portion of the event profit will benefit The Home for Little Wanderers, a nationally renowned, private, non-profit child and family service agency. Tickets are limited and can be purchased at https://the-synergy-events.ticketleap.com/timeless/t/prweb.
About SYNERGY Events
The SYNERGY Events has created various high-end events in Boston, DC and New York, bringing together young professionals, fashion designers, performers, and artists to network, mingle, and gain the opportunity to be a part of unique affairs. These exclusive events attract an ideal market in a luxurious atmosphere. More information about the SYNERGY Events can be found at: http://www.theSYNERGYevents.com.
Contact:
Lilian Hung
Phone: 617.418.3662
Email: lilian(at)theSYNERGYevents(dot)com
###