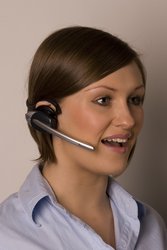 Every time a till operator requests assistance, scanning stops and the queue builds, leading to delays and frustration. Analysis from one of our retail chain customers showed response times to customer queries were reduced by 75%
(PRWEB) December 10, 2009
Quail Digital, the specialist manufacturer of wireless headset communications systems, is launching its new retail headset this month.
Until now, headsets have been used in conjunction with a belt pack which housed the battery and software, but the new QD Retail is the first model in the retail sector to have done away with the belt pack making for an even smaller, more comfortable product for the wearer. New features include hands free, talk lock and push to talk functions.
In addition to the headset, which is typically worn by supervisors (in a supermarket environment, by a sales team in a retail warehouse or shop for example), the new system incorporates 12-button multiple keypads for checkout and kiosk staff which provide instant messaging to alert supervisors to requests or problems which need assistance.
The Quail Digital system uses DECT technology on the 1.88 & 1.92 GHz band, approved for use in over 150 countries which include all of Europe/Middle East, North America, South America and most of Asia. This system allows direct, instant and interference free communication, with excellent audio quality and operates licence free. The QD Retail headset also features intelligent battery management, private paging channel and interfacing with Ethernet and other hard wired networks.
The Quail Digital system has been shown to improve customer service by saving time at tills and checkouts. A 15 checkout store can have up to 1000 occasions a week when assistance is needed. Detailed analysis by Quail Digital customers in their own outlets has shown that using a keypad and headset allows problems to be understood and resolved faster, saving at least 60 seconds of downtime for each transaction.
Tom Downes CEO of Quail Digital said: "Every time a till operator requests assistance, scanning stops and the queue builds, leading to delays and frustration. Analysis from one of our retail chain customers showed response times to customer queries were reduced by 75% after installation of the Quail Digital system."
In addition, retailers report use of the Quail Digital wireless headset system has enhanced in-store security; headsets are a visible deterrent and allow staff to communicate fast and discreetly.
The system also improves staff satisfaction and retailer brand image. Downes said: "Supermarkets with 4 or more checkouts find that staff operate more efficiently when equipped with wireless headsets and request button keypads located at the till and help-points around the store. Headsets improve customer perception of the retailer because they resolve queries quicker by communicating more effectively."
Editor's Notes:

Quail Digital was founded in the UK in 1995 and has offices in London, Frankfurt and Chicago; UK clients
include IKEA, the Co-op, McDonald's, Sainsbury's, KFC and Burger King

The Quail Digital team has over 20 years supporting supermarket and restaurant audio communications
systems in the UK

Quail Digital's headset range is extendable using 'repeaters', roughly quadrupling the 60m radius range
of the base station

Quail Digital has sales offices in the UK, Germany, the US and Canada. It manages sales and installations
elsewhere through dedicated resellers

All Quail Digital systems are assembled tested and final-dispatched from the UK
Quail Digital headsets are fully charged in 2½ hours and give 6 hours continuous talk time
For further information please contact:
Beccy Whittles or Jane Herbert
Pilotmax
T: + 44 (0)20 8334 0200
E: beccy(at)pilotmax(dot)co(dot)uk; jane(at)pilotmax(dot)co(dot)uk
###