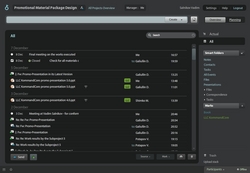 ... A pen and a piece of paper is all that you need for management ...
(PRWEB) December 14, 2009
December, 2009 is the eminent month for innovative web-service KommandCore launched on the market.
Why Innovative?
Not because KommandCore bursts into the project and communication management market today. Not because it is younger compared with those services that work within the market for years. And not because there was no mention before about such a title – KommandCore, nor such an interface, look-and-feel and such tools.
What makes the web-service "KommandCore" innovative is that it represents one of the few web-services and products which appeared, only after their ideology did. And in no way back to front. The KommandCore ideology – that's lively management of projects. Because people work, but at the same time – never stop living. Whose decision is considered the most crucial in the whole world? The own. And what the KommandCore, LLC provides is the Service destined to maintain and attend clients' decisions, the Service gearing up for easy decision making, their accomplishment and control. Management can and should be lively, based on horizontal communication and work with any accessible information.
What is KommandCore?
KommandCore is SaaS-service representing the convenient and live online environment as well as the ground for joint project accomplishment. As the environment – KommandCore pushes project envelope and permits to include any number of external participants into the project. The Service makes available to involve all project participants to succeed project objectives by joint efforts. As the integrative ground – KommandCore provides each participant with personal "workspace". Uniting efforts of participants in one great power flow, KommandCore at the same time possesses the set of effective tools for planning, quick and system decision-making, task assignment and control for their accomplishment.
The Service represents the tooled solution of the 'Lively Management of Projects" ideology, servicing live and natural management, interaction and communication activities.
KommandCore Features
Each project participant is given a necessary and sufficient set of tools for active participation, interaction and project progress influence in the KommandCore web-service. KommandCore basic tools are developed for the one single purpose – to give you really unique possibilities.
To make the managerial influence effective at most, any object may be created in real-time regime, on here-and-now basis, with no need to jump to another screen or inset, with no need to be distracted from the current content the client is working in. And this is exactly what the all-purpose and unique tool - Kommand line is destined for. It becomes very actual when a user, for example, is looking through a letter, and – with no need of being distracted from that – the user can assign a task or arrange a conference at once.
Any object being created within the Service is, somehow or other, but related to some your certain operation before, it shouldn't be torn from its context. What helps keeping contextual relations in KommandCore is the tool named "Sources" which are specified automatically by default, but at the same time, they can be corrected and maintained manually.
KommandCore permits to save user time: tasks, letters, as well as files of any formats can be reviewd and studied directly in the Service.
Any project is nothing other than certain information space. What tools and facilities could help users to sort it out then? Smart Folders is the tool destined to organize and structure all information field, full of objects, in the way a certain participant thinks convenient. In so doing, all new objects corresponding to the tuned conditions are automatically collected to a suchlike folder.
What the built-in tools and communication schemes are based on in KommandCore is so-called horizontal communication. Urgent and current questions can be discussed by means of Chat, Internal or External Correspondence. Then, it's possible to attach to a letter any object – be it files, tasks, events, contacts, or notes.
From Managers to Managers
"So, first, you get used to easy and agile management and participation in diverse projects; then, what fills your everyday professional activity are projects and communication; and finally, you represent a private individual, small or medium enterprise? Well, the KommandCore web-service was created exactly for you," - says the president and co-founder of the KommandCore, LLC Vadim Salnikov.
It's likely to consider the following areas included in the client base of the web-service:

«Mind»-companies, with knowledge as their main means of production (scientists, consultants, engineers, developers);
Service-companies, with their forte of interaction and relations with clients in their projects (e.g. advertising and marketing agencies, legal and attorney agencies, publishing houses, travel agencies, insurance and financing agencies);
Engineering, construction and management companies;
IT-companies, with their main field of existence in project accomplishment (e.g. web-designers, web-developers, software developers).
"… And this list is far of being finished here, and is very likely to contain the activity or field which is essential for your company", - states Dmitry Galiullin, the Chief Executive Officer at KommandCore, LLC.
In conclusion, the main unique point of KommandCore is that it was planned, created and is being updated by professional managers.
That's why the web-service appeals managers first and foremost and reflects project accomplishment from the detached view of Manager.
###