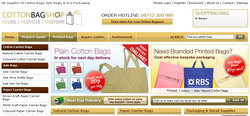 'We set up Cotton Bag Shop as we realised the responsibility that we have to lead the way in environmentally friendly packaging. It is a site that is focussed on bringing cotton bags and other eco friendly products to the forefront.'
(PRWEB) December 10, 2009
Which bags are Eco Friendly? Are these Eco Friendly Bags? Which bags are Bio Degradable? What bag is the best for the Environment?
In response to the feedback from their customers, Carrier Bag Shop launches their new division http://www.cottonbagshop.co.uk.
Managing Director Sujan Shah says: 'We set up Cotton Bag Shop as we realised the responsibility that we have to lead the way in environmentally friendly packaging. It is a site that is focussed on bringing cotton bags and other eco friendly products to the forefront.'
The Cotton Bags supplied are of the highest quality possible. They are all made of 5oz cotton as standard with top quality stitch to ensure that they can handle a good weight. The cotton Shoppers can hold weights up to 5kilos and are food safe, making them a very versatile option. Cotton Bags are 100% re-usable, 100% recyclable & 100% degradable and are compostable over 2 years.
All of the cotton bags are ethically sourced and to ensure this the management have visited the factories producing these bags.
Sales Director Neil Savla says: 'We visited the factories in India, to make sure that our Cotton Bags were being ethically produced. All of the working conditions are suitable and the cotton used to make our bags is sourced locally, which minimises the carbon footprint.'
Cotton Bag Shop is very aware that transporting such bulky items, as cotton bags can increase the carbon footprint. For this reason all of the Cotton Shoppers are sea freighted to them. This couple with locally sourced raw materials reduces the carbon footprint of these bags.
Cotton Bags are also becoming increasingly popular for promotional events, trade shows and retail stores as they have a long life and can be reused time and time again. Having printed bags is a great way to promote a brand or company. Cotton Bag Shop offers an unrivalled printed bags service
Not only is Cotton Bag Shop one of the leading suppliers of Cotton Bags, it also supplies a wider range of Eco Friendly Products including:
Cotton Bags - Available in 9 different colours including Natural
Jute Bags - Including Jute carrier bags, Jute Jam Jar Bags and Jute Bottle Bags
Recycled Paper Bags - Available in Brown and in 10 different colours of Gloss or Matt Laminated
Kraft Paper Bags - With Flat handles, twisted handles and counter bags. All made from FSC Sources
Although Cotton Bag Shop is dedicated to bringing their range of eco friendly bags to the limelight, they also appreciate that their customers want more. They also stock Tissue Paper, Bottle Bags, Candy Stripe Bags, Kraft Paper Bags, Gift Bags and Arts & Crafts Items.
Cotton Bag Shop is confident that this new and more focussed approach to Eco Friendly Packaging will help their customers do their part in keeping themselves and their business Environmentally Friendly.
# # #