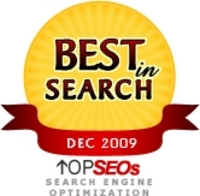 That we have been awarded the Top SEOs number 1 spot every month for over a year shows that we are continuing to move in the right direction and our goal is to make sure that we keep offering the best services and bringing our clients the best possible re
Cheshire, England (PRWEB) December 10, 2009
Top SEOs, the independent search vendor, have ranked SEO Consult the Number 1 UK SEO Company in December 2009. This is the 13th consecutive month that SEO Consult have been awarded this Search Engine Optimisation accolade, making it their second Christmas at number 1.
Top SEOs analyse up to 300 UK SEO agencies every month in order to find the companies which provide the best overall services. They evaluate a whole range of areas including customer services/satisfaction and client retention, the amount of time in which first page results are achieved, competitive cost and their reporting methods to clients. Customer feedback is also taken into account. SEO Consult received a 100% score, meaning that Top SEOs considered they offer the best comprehensive services in all areas of Search Engine Optimization.
"We are really pleased to be spending our second Christmas in a row as the UK's number 1 SEO Agency and it tops off an excellent 2009 for us," commented Matt Bullas, Managing Director of SEO Consult. "We have seen real growth as a company and have been able to provide our SEO services to more clients than ever. That we have been awarded the Top SEOs number 1 spot every month for over a year shows that we are continuing to move in the right direction and our goal is to make sure that we keep offering the best services and bringing our clients the best possible results into 2010 and beyond."
About SEO Consult:
SEO Consult is the specialist SEO division of Click Consult. Established in 2003, Click Consult is a leading provider of Search Engine Marketing (SEM) solutions, including Pay Per Click (PPC) Campaigns, Content and Banner Advertising, Search Engine Optimisation, Affiliate Marketing, Shopping Feeds, Website Design and Development, E-Mail Marketing and Online PR. With over 40 Staff in Cheshire and London, Click Consult has over 200 PPC and SEO clients in every major industry. Click Consult is fully certified by Google AdWords, Microsoft adExcellence, the Internet Advertising Bureau, SEOCertification.org and TopSEOs.com.
###