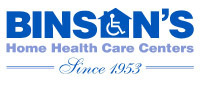 Center Line, MI (PRWEB) December 9, 2009
Binson's Home Health Care Centers is a proud sponsor of the St. Clair Shores Senior Center (SCSSC) and starting Dec. 14 will provide Home Health Care Seminars each month from 10:30 a.m. to 11:00 a.m.
The first Home Health Care Seminar on Dec. 14 will feature Peter Nielsen from the hit show "Peter's Principles" and Binson's Ryan Kuhn. The seminar will focus on fitness education and attendees can expect to receive advice from Detroit's top fitness expert to build a healthier lifestyle.
A Diabetes Education seminar with Mary Austin, a registered dietician and certified diabetes educator, will be held the following month. Other seminars include Incontinence Education; Diabetic Shoes, which will educate attendees on the proper fit, the benefits, provide product samplings, and discuss insurance qualifications of diabetic shoes; Respiratory Education lead by John Porter, Binson's Director of Respiratory; and more.
Also, on the second Saturday of each month, the Binson's Home Health Care Center in Eastpointe, Mich. will offer a 20 percent discount to all St. Clair Shores Seniors. Shuttle service will be provided by the SCSSC.
Additional seminars will cover nutrition, breast cancer prosthetics, rehabilitation products including wheelchairs, scooters, and walkers, free maintenance on wheelchairs and other rehabilitation equipment, free vein screenings, urology products and care, and an overview of what services and products Binson's Home Health Care Centers provide.
For the complete schedule of seminars please visit a Binson's Health Care Center or the St. Clair Shores Senior Center. The schedule can also be found at http://www.binsons.com under "News and Events."
About Binson's Home Health Care Centers
Binson's Home Health Care Centers began as Binson's Pharmacy in Center Line, Mich. during the 1950's and grew to the home health care center it is today. Currently, there are Binson's retail outlets in both Michigan and Florida. With continuously updated products and services and new locations, Binson's is destined for exceptional dynamic growth in home health care. For more information about incontinence products and programs call Binson's at 888-246-7667 and ask for the IP Program, or visit: http://www.binsons.com/
###