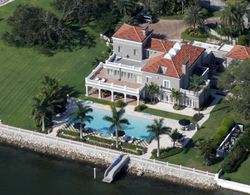 "An extraordinary home and property. This Estate was restored to the highest standards by the current ownership that poured millions of dollars into the revitalization project. No words can describe this inimitable architectural masterpiece
Saint Petersburg, FL (PRWEB) December 11, 2009
Perry Snell's waterfront mansion, considered as one of the most beautiful homes in Florida, was just listed for $18 million, in the St Petersburg/ Tampa Bay area. Alona Dishy with Realty Executives, who specializes in high end, historic and waterfront homes in the Tampa Bay area, is representing the ownership.
Built in the 1920's on Brightwaters Blvd, (famed multimillion dollar homes that hug the waterfront within minutes of ritzy downtown area) on manicured grounds with six hundred feet of bay frontage. This landmark property recently underwent a full scale two year revitalization and restoration program by the current ownership, who were responsible for preserving and reviving Snell's crowning architectural achievement.
Perry Snell, the legendary developer in Florida, staked out this rare site for his main residence in the early 1920's and reportedly filled several railway cars with Italian marble and a treasure trove of antiquities collected during his travels throughout Europe to be used in its construction. He took full advantage of the spectacular setting as a backdrop to his unique architectural style: A blend of Spanish Revival with Italian Renaissance.
Today the home has been brought back to its original splendor and restored to the highest world class standards. A crew of over 100 master craftsmen and artisans handpicked by contractor, Rick Worley, were on site daily for two years, painstakingly returning the mansion to its original palatial glory.
According to Alona Dishy, (Realty Executives) Listing Agent for this luxurious estate, "The restoration and craftsmanship that went into this property is the best of the best in every sense of the word. All the original details are intact and additions seamlessly incorporated. It was a monumental project with millions spent to preserve and enhance the past."
A premier location and property on 1.6 acres, with approx 600ft of sailboat waterfront on Tampa Bay, it offers panoramic views and features separate guest quarters, a 75ft heated lap pool and spa, coral walkways, lush tropical landscaping, a reflection pool, a waterlily pond and of course the home itself, that was built by Perry Snell for his primary winter residence is almost 10,000htd sf, with 7 bedrooms, 9 bathrooms, Florida, family and bonusrooms plus library/office.
A palatial 3-story Mizner style beauty with intricate details from floor to ceiling that speaks for itself. The home was designed for glamorous entertaining and indoor-to-outdoor living, with patios, pools, courtyards, balconies and terraces large bedrooms, high ceilings, and spacious entertaining rooms.
In 1939 Wally and Louise Bishop purchased the estate. Wally Bishop, a cartoonist pilot and sailor, was known for "Mugs and Skeeter", his syndicated newspaper cartoon that he created in his third floor studio at the home. He and Mrs. Bishop were generous community donors, especially to the Museum of Fine Arts. Wally Bishop died in 1982; Louise Bishop died in 2005.
The current ownership purchased the home in 2006. Much of the home at the time was altered to accommodate the needs of the family and the decades of changing trends and styles. Today's owners saw the need to preserve this special landmark, saving it from potentially being demolished by developers looking to build several homes on the land.
Everything was restored and alterations by the previous owners were removed to preserve the Snell Heritage: From fireplaces to light fixtures, plaster, stucco to woodwork, hardware, trimwork,fixtures and fittings, details and accessories. Many restored and salvaged items are several centuries old and found throughout castles and buildings in Europe. Anything new was crafted in the highest quality materials. Master Craftsmen were employed to replicate columns and add balconies, artists revived intricate paintings on the ceiling beams that were hidden beneath layers of wallpaint, pecky cypress and marble was restored or salvaged, hidden fireplaces unveiled, arches and ceiling beams were rediscovered beneath layers of paint, the gourmet kitchen, bathrooms and butler's pantry was rebuilt with the highest respect for the past,while state of the art audio, visual and security systems were added throughout the home. Patios, lacey ironwork, columns, balustrades and balconies were replicated, the seawall was replaced and the private fishing pier restored plus dockage added to hold several large watercraft.
"Every sq. ft of this home is one of a kind," says Alona Dishy, who also sold the home to the current owners " To attempt to replicate the building would be far in excess of $10,000 per sq foot". Located in the heart of Snell Isle (named after Perry Snell) and a 15 minute walk to downtown, it sits like an island on an island, with panoramic waterfront views that stretch across to Old NE and the downtown skyline in the distance . ...and then there are the dolphins, the birds, and the sunrises and sunsets..and it is only 20 minutes from Tampa International Airport.
For more information visit http://www.alonadishy.com
# # #