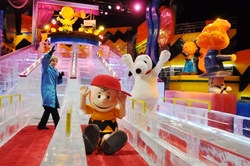 The Most Christmassy Hotel in the Nation
Nashville, TN (Vocus) December 9, 2009
There is still time to experience one of the world's most well-known Christmas celebrations, just as the celebrities have, at Gaylord Opryland Resort in Nashville, Tenn. Room reservations and tickets to more than a dozen shows and attractions are still available as part of the resort's 2009 A Country Christmas. For the 26th year, A Country Christmas is making memories to last a lifetime for the thousands of people who travel to experience the most-written-about holiday resort entertainment, décor and food in America.
This year, the celebration is merrier as more celebrities than ever are joining the festivities. Food Network's beloved Paula Deen joined the Radio City Rockettes on stage to learn a few dance moves; country music artist Eddie Montgomery helped get the glittering 2-million lights going for the season; members of the Schulz family and famed Peanuts TV producer Lee Mendelson visited Gaylord Opryland to tour the new ICE! featuring A Charlie Brown Christmas. And, country music star Louise Mandrell played her drums and fiddle to help welcome the Capitol Christmas Tree which visited A Country Christmas on its way to Washington, D.C. from Arizona. Videos of all of those events can be seen at http://www.youtube.com/user/ACountryChristmas.
Called one of the "Ten Great Places to Catch up with Santa" by USA Today and hailed as "The Most Christmassy Hotel in the Nation" by the Travel Channel's Extreme Christmas, A Country Christmas offers a cornucopia of options for holiday fun, such as:

ICE! featuring A Charlie Brown Christmas by Charles Schulz. A Charlie Brown Christmas, one of America's most beloved and most successful TV Christmas classics, has been transformed into the world's first and only ICE! featuring A Charlie Brown Christmas. The colorful, interactive ice sculpture world tells the story of Charlie Brown and his friends as they discover the meaning of Christmas together. The story is brought to life in
2 million pounds of ice, creating new memories from Charles Schulz's quintessential 1965 animated production. The Peanuts characters' sculptures, slides and rooms literally constructed of ice will be open for experiencing through Jan. 2, 2010.
Breakfast with Charlie Brown: Begin a day of holiday activities by having breakfast with one of the world's most lovable losers, Charlie Brown. The star of this year's ICE will join Peanuts-loving friends for a NEW and delicious breakfast event Saturdays and Sundays during Gaylord Opryland's A Country Christmas in 2009. He'll share hugs and be ready for photographs as he visits from table to table. Breakfast with Charlie Brown will be held in the resort's signature Ristorante Volare, located in the Garden Conservatory Atrium from 7 a.m. to 11 a.m. Reservations are strongly suggested and can be made by calling 1-888-999-6779.
The Radio City Christmas Spectacular: The beautiful and talented precision dancers, the Radio City Rockettes, are back at the Grand Ole Opry House, for their eighth season performing as part of A Country Christmas. Now a Nashville tradition, the production, straight from New York, features the world's finest dance troupe displaying some of the most challenging kicks and dance moves. It is a full-scale spectacle with dazzling scenery and costumes, dancing teddy bears and a Living Nativity. The Radio City Christmas Spectacular will be performed through Dec. 27, 2009.
Louise Mandrell's 'Joy to the World' Christmas and Dinner Show: Country music artist Louise Mandrell entertains with singing, dancing and comedy in her highly popular Louise Mandrell's 'Joy to the World' Christmas and Dinner Show. "I've seen my share of entertainers, but I don't believe I've seen anyone with as much energy and spunk as Louise Mandrell. I'd even say Louise Mandrell gives the Rockettes a run for their money," said Whitney Self, CMT.com. This traditional holiday production features the multi-talented Mandrell and her band in an instrumental journey around the world. The unforgettable menu includes hearty comfort food, served family style. The show runs through Dec. 25, 2009.
Tim Watson's Tennessee Christmas: The magic and joy of the holiday season is glowing on the General Jackson Showboat. Friends and family gather around the table for a holiday lunch served family style in bottomless bowls onboard the famous showboat's midday cruises. After lunch, Tim Watson and his band offer a Christmas show chockfull of holiday songs. Experience Christmastime in Tennessee onboard The General Jackson Showboat for Tim Watson's Tennessee Christmas. The show runs through Dec. 25, 2009.
A Country Christmas on the Cumberland: A one-of-a-kind holiday experience awaits on the General Jackson Showboat with A Country Christmas on the Cumberland. Some of Nashville's most talented performers and musicians entertain with a heart-warming show filled with country holiday classics and contemporary songs of the season. It all takes place in a glittering two-story, Victorian-style theater and begins with a delicious, three-course holiday dinner served family-style. The show runs through Dec. 23, 2009.
New Year's Eve Triple Dance Party & more: Three times the music, three times the party at Gaylord Opryland on New Year's Eve, 2009. Party the night away on the dance floor surrounded by three stages featuring non-stop music to satisfy everyone's taste! Put on some leg warmers and parachute pants and re-live the 80's; boot scoot and electric slide the night away to a country band; and get down to the Top 40 dance band. Make it a long holiday weekend! For a limited time, Buy The Two Night Package and Get Your Third Night free! For more information on all the Triple Dance Party, New Year's Eve at Fuse nightclub, the Wildhorse Saloon and other special package offers, please go to http://www.gaylordhotels.com/gaylord-opryland/specials-packages/index.html
Share your memories: After visiting A Country Christmas, keep the experience alive by sharing your memories at http://www.sharechristmasmemories.com. Each of our Gaylord Hotels are recognized as the place to create meaningful holiday memories.
To buy A Country Christmas or New Year's Eve vacation packages which represent a 25% savings, book guestrooms or buy event tickets, please visit http://www.ChristmasAtGaylordOpryland.com or call 1-888-999-OPRY (6779).
PEANUTS © United Feature Syndicate, Inc.
###