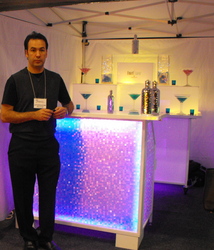 it was already the world's smartest bar, but we revised, re-imagined and made it even smarter for 2010.
New York, NY (PRWEB) December 13, 2009
It was already the world's smartest bar, but Smart Space Products revised, re-imagined and made it even smarter for 2010. The Smart Bar a full-sized portable bar has attracted nationwide attention due to its innovative design and unique features. Most notably it folds open and closed (providing space efficiency during storage), it rolls (offering remarkably convenient set up and storage by one person) and it lights up (lighting, including 16 color combinations are available using a simple remote control).
The latest improvements to the handsome and durable Plexiglas and metal unit include:
A completely removable top allowing easier cleaning, branding and/or replacement
Two additional sets of heavy duty wheels which increase stability while rolling the unit. New wheel covers are now a standard feature adding to the permanent look of the bar.
Removable cutting boards make cleaning and washing more convenient.
Easily removable/replaceable translucent panels can be ordered in a wide variety of looks and styles (including wood grain, mosaic, metallic and many others)to fit any environment and/or client request.
In addition to the new bar, Smart Space Products also introduced:
The Smart Bar Mini – a smaller version of the Smart Bar, ideal as a second bar or for special drinks (Martini's Margaritas, etc.) for Happy Hour service and for sampling.
The Smart Triple Header - an amazingly flexible unit that can be used as a portable check-in, a portable parking valet stand and an attractive portable podium.
The Smart Back Bar – the perfect size for a back bar (43" H X 6 ft. L)
That folds, rolls and lights up.
# # #