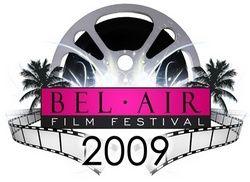 Bel Air, CA (PRWEB) December 9, 2009
The second annual Bel Air Film Festival has announced it's International Jury Documentary Winner. The festival held 35 film screenings along with packed theaters, and 4 red carpet events November 13th-17th. The festival's opening night was held at UCLA's James Bridges Theater where honorees Louis Gossett Jr. received a "Lifetime Achievement Award," Taryn Manning was honored for her work in Film and Fashion with the festival's "Film Fashion Visionary" award, and Vivica A. Fox was given the festival's "Best Actress" Award. The Improv held the closing night ceremony hosted by Jill-Michele Melean from Mad TV, RENO 911, and Showtime. Comedy honoree recipients included Neal Brennan (Chappelle's Show) "Best Comedy Writer," Kerri Kenney, Thomas Lennon, and Robert Ben Garant, creators of Comedy Central's hit show RENO 911 for their work and devotion in film with the festival's "Outstanding Achievement in Comedy for Film and Television" award.
"The Bel Air Film Festival is pleased to have had the opportunity to debut "Mind of the Demon: The Larry Linkogle Story," for it's Los Angeles Premiere and honor the filmmakers with our International Documentary Jury Award. This is an incredible film that touches the hearts of it's viewers," said Bel Air Film Festival™ President Melody Storm.
Mind of the Demon: The Larry Linkogle Story voted "Best Jury International Documentary" is an incredible and motivating documentary starring athlete Larry Linkogle. Noted attendees at the film screening included Christian Fletcher (surfer), Mike Metzger (freestyle motocross), Duane Peters (Skateboarder), Trigger Gumm (motocross).
The film takes an analytical look into the psyche of one of the most brilliantly talented, yet aggressively self-destructive minds of our generation. Larry Linkogle is a world-record holding dirt bike legend and a man battling his inner demons as he struggles to maintain structure, sobriety and self-control. Incredible archival footage, colorful characters, and interviews with the industry's top names rebuild the thrilling story of the birth of freestyle motocross. Past and present storylines intertwine to drive the film toward one of only two possible conclusions: a nose dive straight into a black hole or one of the best comeback stories of all time.
"In shaping the Linkogle documentary - we agreed to give both his friends and enemies an equal voice. There was zero ego and Larry wasn't afraid to show the underbelly of his 'dark period'. There are parts of the film that he is not proud of, and probably wasn't thrilled to have his family to see, but he never once asked me to edit or pull anything out - which made me really respect him. I've realized that when you get the most hard-core people on the planet giving sincere interviews, you have the power to send a strong message - whether that was the initial intention or not," said film Writer and Director Adam Barker of Lone Gut Productions.
Bel Air Film Festival Mission Statement:
BAFF's screenings and parties are held at private luxury estates in Bel Air and in venues throughout Beverly Hills, Westwood, and greater Los Angeles. The festival believes in raising awareness about independent film and supporting upcoming filmmakers. The Festival showcases some of today's most creative films and filming talent, and brings together industry tastemakers, green-lighters, and film fans. BAFF is uniquely recognized for having a special Film Fashion category specifically for fashion-related films. Other programming categories include documentaries, shorts, comedic works, dramatic works, animated films, foreign films, music videos, and student-made films.
http://www/belairfilmfestival.com
http://www.twitter/BelAirFilmFest
http://www.myspace.com/belairfilmfestival
http://www.facebook.com/group.php?gid=38088600157
# # #