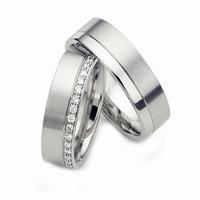 The goal of LoveWeddingBands always has been to create a better way to buy jewelry
New York City (PRWEB) December 10, 2009
Just in time for the upcoming holiday season, LoveWeddingBands Inc., the leading online retailer of wedding bands, has added two new lines of classic jewelry favorites — a collection of high-quality wedding rings line. And, LoveWeddingBands is primed and ready for the upcoming shopping festivities with an updated Web site that makes the shopping experience even easier.
"The goal of LoveWeddingBands always has been to create a better way to buy jewelry," said Erdem Alganatay, chief executive officer of LoveWeddingBands. "And, our customers have told us overwhelmingly that they want to buy wedding rings from a fine jewelry retailer. By expanding our wedding rings product line — we can provide our customers with the kind of high-quality, beautifully-crafted jewelry they need in a pressure-free shopping environment."
True to the company's commitment to provide its consumers with only the highest quality engagement rings, LoveWeddingBands's exceptional new line of watches includes some of the most respected brands in the world including: Alfex, Baume et Mercier, Ebel, Festina, Gucci, Movado, Seiko, Skagen, Swiss Army, TAG Heuer. With classic, clean designs and sporty to traditional to elegant styles, the watches range in price from $100 to $5,000, with the average watched priced at roughly $225.
Along with the new wedding rings line, consumers will find guidance and education to help them choose a wedding ring on the site that is perfectly suited to their individual needs. Multi-image views will also be available for wedding rings, enhancing the visual aspect of the online shopping experience.
To make these additions even more accessible and consumer friendly, LoveWeddingBands has redesigned its Web site to make navigation easier than ever. Consumers will discover a variety of new features that will help guide them through the site and to their desired location.
LoveWeddingBands.com offers online shoppers the best in Internet shipping by providing UPS Saturday delivery on all orders placed by 3 p.m. EST on December 23. Orders priced above $200 will ship free, while all other orders require a nominal fee for Saturday delivery.
For those shoppers who prefer not to wait until the last minute, all orders placed by 3 p.m. EST on December 22 will ship free in time for Christmas.
"With the combination of free UPS shipping on all orders placed through December 22, and by offering Christmas Eve delivery for those last-minute shoppers, LoveWeddingBands.com continues to set the standard for online customer service," said CEO Erdem Alganatay.
The LoveWeddingBands site continues to garner critical acclaim, as well. Most recently, the company received the distinction of being named the "Best of the Best" as Forbes' Favorite online jeweler, the top honor in the publication's survey of the Internet's best sites.
About LoveWeddingBands
LoveWeddingBands is an online retailer of platinum wedding bands located in the heart of the diamond district in New York City. LoveWeddingBands has built a well-esteemed brand by providing clients with a better way to buy wedding bands. LoveWeddingBands has established some of the highest quality principles in the industry and provides clients with in-depth educational materials and unique online tools that place consumers in control of the wedding band shopping process. The LoveWeddingBands Web site showcases independently certified diamond wedding bands at prices significantly below traditional retail. Check us out at http://www.LoveWeddingBands.com
###