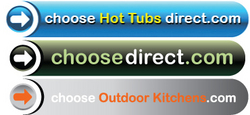 San Francisco, CA (Vocus) December 9, 2009
Sales soared for ChooseDirect.com's Second Chance Cyber Monday Sale yesterday as the company saw record traffic and transactions, particularly at ChooseHotTubsDirect.com and ChooseFireplacesandStoves.com. The figures astound: web site visits at ChooseFireplacesandStoves doubled compared with those on Cyber Monday, while the company achieved a 500% growth in fireplace sales and a 200% upsurge in those of hot tubs.
Fireplaces, stoves and fireplace inserts sales saw a dramatic upswing at ChooseFireplacesandStoves.com, with people gearing up for cold winter nights, hoping to save on energy bills and cashing in on the EPA tax credit of up to $1500 for EPA Phase II approved items readily available on the site. Also popular sellers were modern fireplaces, which consumers currently crave.
Hot tubs and spas at ChooseHotTubsDirect.com also sold extremely well. The company's own line of hot tubs, Island Escape Spas, remained the best sellers since prices were so affordable. Perhaps preparing for spring or just realizing what a terrific gift a hot tub is, consumers bought into the extremely low, factory direct costs the company offered.
Clearly people are clamoring for amazing deals this holiday shopping season, waiting for just the right prices. ChooseDirect.com offered wonderful values in order to please its ever-growing customer base and proved that holiday spending is definitely increasing over last year's lackluster performance.
About ChooseDirect.com:
ChooseDirect.com brings the world high quality products at factory direct pricing. Since this e-commerce online retailer is involved with the product all the way down to the factory level, it cuts out many middlemen from the process and is able to offer better prices than the competitors. With advanced factory coordination, ChooseFireplacesandStoves.com provides all its customers with highly customized premium fireplaces, stoves, or fireplace inserts and more at discount prices they can afford. Choose HotTubsDirect.com prides itself in having a large selection of hot tubs. ChooseOutdoorKitchens.com, an online retailer of outdoor kitchens, built in grills, drop in grill islands and many other outdoor kitchen products, also follows the ChooseDirect.com business model and leads the outdoor kitchen industry with high quality products, great customer service, detailed product facts and outdoor kitchen industry information.
###