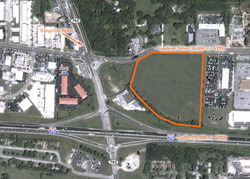 The Auction is an Extraordinary Opportunity to Acquire this Spectacular Site, at Your Own Price!
Chicago, IL and Columbia, MO (PRWEB) December 9, 2009
Tranzon (tranzon.com), one of the nation's leading real estate auction companies, today announced that it has been retained to auction a 12.72+/- acre commercial development site located at 1100 Vandiver Drive in Columbia Missouri (Boone County).
The auction will be conducted in a sealed bid format with bids due by 4 p.m. CST on Wednesday February 3, 2010. Bids should be addressed to Tranzon. Attn: Columbia Project Executive, 500 Lake Cook Road, Third Floor, Deerfield, Illinois 60015. Property Inspections will be conducted by appointment only.
Edward Kusztelak, President of Tranzon Edwards, Inc. said: "Our auction is an extraordinary opportunity to acquire this spectacular commercial development site with tremendous upside potential, at the purchaser's own price!"
Mr. Kusztelak added that Columbia provides a strategic central location to the marketplace, "Companies have been attracted to Columbia, because of its thriving economic climate, excellent public school system, access to superb health care and the overall high-quality of life."
The Property
1100 Vandiver Drive, Columbia, MO consists of a total of 12.72+/- acres ideally located with additional frontage along I-70 (Exit 127). High traffic counts and visibility from both I-70 and Vandiver Dr., coupled with the properties liberal C-3 zoning classification makes it an exceptional location for a countless number of development opportunities.
About Columbia, Missouri:
Columbia is the fifth-largest city in Missouri, centrally located in the center of the state approximately 120 miles away from both St. Louis and Kansas City and only 29 miles north of the state capital Jefferson City. Major highways servicing Columbia include Interstate 70, US Routes 63 and 40 which allow for quick and convenient access to the entire Midwest. Columbia's air transportation needs are serviced by Columbia Regional Airport the only commercial airport in Mid-Missouri. Columbia also boasts an extensive public transit system.
Home to the University of Missouri, Stephens College and Columbia College, Columbia's economy benefits from a student population that exceeds 50,000. Over half of Columbia's residents possess a bachelor's degree and more than a quarter hold graduate degrees, making it the thirteenth most highly educated municipality in the United States.
Columbia has a highly diversified economy, and is often ranked high for its business atmosphere. The city's economic base is comprised primarily from the education, medical, technology and insurance industries. Columbia consistently ranks as a top city in which to live due to its educational facilities, superior health care, economic growth, cultural opportunities and low cost of living. The city has been ranked as high as the second-best place to live in the United States by Money Magazine's annual list and is regularly in the top 100.
About Tranzon-Edwards, Inc.:
Tranzon-Edwards is a full service provider of real estate disposition services including live open-outcry, sealed bid and online real estate auctions as well as accelerated marketing services. The company serves private and institutional buyers and sellers of commercial, industrial, residential and special use properties, including distressed real estate, REO properties, estate sales, trophy homes, vacation homes, condominiums, land and other difficult-to-value real estate. For more information, contact Edward Kusztelak at Tranzon-Edwards, Inc., (847) 634-1600, ekusztelak (at) Tranzon (dot) com; or log onto TranzonEdwards.com.
###