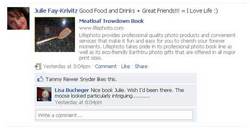 "We believe we are the first in the photo marketplace to offer a book previewer that can be shared through e-mail, on Web sites and blogs as well as on Facebook, Twitter and other social media sites," commented Eric Hegwood, President and CEO of Lifephoto
Milwaukee, WI (PRWEB) December 10, 2009
Lifephoto.com, an online digital photo gift store and photo sharing site, has added two new features that make photo sharing even easier for consumers. 1) Its photo sharing book previewer can now be posted and shared on Facebook, Twitter and other social media sites and 2) It has redesigned its personal photo galleries for registered users. Lifephoto's photo sharing options enrich the online experience for consumers who upload their photos to create unique photo products and gifts.
Lifephoto knows its customers want to share their photos on Facebook. That's why Lifephoto's unique photo sharing book previewer has been tuned up to not only share photo books by e-mail, but also on Facebook, Twitter, blogs, Web sites and other social media sites. The Previewer is Lifephoto's sharing tool that displays a user's photo book in a "turning-page format" during the book-building process. The user can e-mail the Previewer to another person who can then also view the book. Now Lifephoto has added additional sharing options by adapting the Previewer for use on social media. "We believe we are the first in the photo marketplace to offer a book previewer that can be shared through e-mail, on Web sites and blogs as well as on Facebook, Twitter and other social media sites," commented Eric Hegwood, President and CEO of Lifephoto.com.
"Most people want easy ways to share their photos," explained Hegwood, "and we're making it very easy for our customers to send their photo books directly to Facebook." Social media friends can view the complete photo book in a "turning page" format and add their comments on the post. Lifephoto discussed its photo sharing tool for social media on its blog, simplephotogifts.com.
Lifephoto also offers a personal photo gallery that gives registered users the options of storing their photos on the Lifephoto site and sorting their folders alphabetically or by date. The gallery also provides details about each folder, including the number of photos and the date it was created. Additionally, users have a choice of viewing their photos in one of three formats: 1) Thumbnail View with five photos across the screen; 2) Gallery View with three photos across ; or 3) Best View featuring one large photo with thumbnails of other photos on the side of the screen. At that point, photos can be added, rotated, copied to another folder or deleted. Although they have registered on the Lifephoto site, gallery users are under no obligation to purchase a product; they can simply and safely store their photos online at lifephoto.com, and use them for sharing directly from their gallery or for creating photo gifts at a later time.
Another unique aspect of the Lifephoto site is the customer's ability to create a photo book or other photo gift without the need to register. People who might prefer not to register include those that will not be storing their photos on the site and those who simply want to go directly to their photo project. Advantages of registering include the ability to store an unlimited number of photos in personal photo galleries, the option of getting sale notifications and the prefilling of forms when they reorder. But both registered and unregistered users of the Lifephoto site can be assured that their information will never be shared or sold.
Lifephoto.com, with its online digital photo gift store and photo sharing site, is the consumer division of SyNet Media, a software developer with a 10-year history of creating photo publishing software for the photography market. Lifephoto offers traditional and eco friendly picture printing as well as banners, wall murals, guest registries, photo notebooks, dry erase boards and digital memory books in various sizes, styles and prices. Lifephoto's photo sharing site is designed to give customers a great experience as they use their photos to create unique photo products and gifts.
For more information, contact:
Eric Hegwood, President
Lifephoto.com
414-604-1104
###