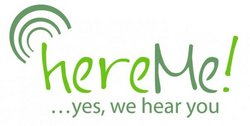 Miami, FL (Vocus) December 9, 2009
In the increasingly crowded iPhone application landscape, hereMe! stands out—because it's on the move.
Utilizing the iPhone's GPS feature, hereMe! becomes a tool to connect users to places near and far. Wherever they are, users can post photos, audio, and blog entries about these locations and discover what others who have been there left behind. All entries are attached to the place like a virtual guest book. Bypassers can discover whatever they want by defining their sphere of interest. It might be 20ft around a current position or 20 miles: every user can discover what exists in their sphere of interest.
HereMe! users also rate spots and their feelings at the the spot, making the application a valuable tool for tourists and locals alike. Without fumbling with a guidebook, tourists can find all the hot spots. HereMe! is even more: using geo-tagged knowledge from Wikipedia the application enhances every place with displaying local knowledge. Integrated with AdMob,a platform for mobile in-app advertising, local retailers can now advertise in a seamless way and attach their advertisement to a local place visible to people who are actually there.
Locals and visitors alike will deepen their relationship to their community by discovering hidden gems.
HereMe! also enables people to stay connected to places that are geographically far away-- an old school building, the main street of their home town, their favorite spot on the beach where they spent endless summers….each user can define whatever is valuable to them as a favorite spot and stay connected to it, by setting up alerts through email, iPhone Push, Twitter, or Facebook.
HereMe! connects people around the world by delivering a place-centric application that allows people to discover and contribute to the ever-growing history of their favorite places—a beloved park bench in the New York's Central Park, a daily subway station, a favorite restaurant, historic places in Venice, the Eiffel Tower in Paris, a favorite summer place at the beach...
In a sense, hereMe! is the modern version of the classic guest book or visitor log displayed in old chapels or other historic places. Who was here before me? Who will be here after me? What have people thought about while being here? With hereMe! your Mind can stay connected to your favorite places, anywhere, anytime…
Currently supported only on the iPhone, the team plans to expand hereMe! to include other smart phones.
From a park bench to the Great Wall of China, from beaches to mountains, from historic places to your local street corner or bus station: what is the relation between our mind and places?
HereMe! helps your mind to discover this deep relation and to stay connected to any of your favorite places.
….I am here…yes we hear you!
Visit us on http://www.myhereme.com or download our application through the Apple Store.
###