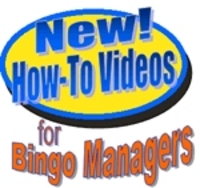 "The bingo video collection we've put together is a simple way for bingo managers to get some needed help. While these videos are primarily aimed at the novice bingo fundraiser, we feel that more experienced chairpersons will also benefit from the informa
Jackson, MI (PRWEB) December 14, 2009
WholesaleBingoSupplies.com, a leading provider of bingo daubers, bingo paper, bingo equipment, and other bingo supplies has created a video series aimed at helping the bingo manager run a successful bingo fundraiser. Currently bingo videos that are accessible on the site are:
How to Create a Bingo Program Part I, II, & III
How to Order Bingo Paper
How to Clean a Pulltab Machine
Non-profit groups, schools, and other charitable organizations that depend on bingo for needed funds frequently need help running a successful bingo event. These groups often have volunteers that change year-to-year, leading to uncertainty regarding bingo operations. This is especially true when these bingo fundraisers aren't run on a regular basis.
WholesaleBingoSupplies.com is frequently sought out for bingo management advice from their customer base. Questions about winning patterns for a bingo or about prize payout composition can be overwhelming if you've never been around bingo. This is why WholesaleBingoSupplies.com will continue to provide articles, advice, and now video help to charitable games.
"Hosting a bingo event can be more difficult than you might think. Questions about prize payouts, game structure, marketing to bingo players, bingo supplies and other things can be overwhelming," states Rob Robinson, President of Wholesale Bingo Supplies. "This is especially true if you've never been involved with bingo or run a bingo fundraiser. The bingo video collection we've put together is a simple way for bingo managers to get some needed help. While these videos are primarily aimed at the novice bingo fundraiser, we feel that more experienced chairpersons will also benefit from the information provided."
Additional videos are scheduled for creation. Future topics will include more helpful advice for bingo managers, product profiles, bingo equipment operation and other interesting topics relevant to the bingo market.
WholesaleBingoSupplies.com provides bingo products and informative bingo content to bingo managers and players worldwide. Non-profit organizations, businesses, fraternal groups, tribal casinos, cruise ships and other associations can be counted amongst their current clients.
# # #