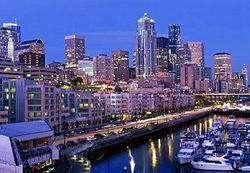 Seattle, WA (PRWEB) December 10, 2009
The Seattle Marriott Waterfront is taking the top spot for planning meetings and business events when it comes to Seattle Waterfront hotels. The Marriott Seattle Waterfront district hotel is offering special package rates called the "Exceptionally Wonderful Days," designed to attract companies who want to host an event or meeting.
If a business or group books an event with 25 or more peak room night reservations at the Marriott Seattle Waterfront hotel by December 30, 2009, then they can choose from one of the following additional amenities; complimentary meeting room rental, free in-room high speed internet access, or a Seattle-themed morning or afternoon break catered at no extra cost.
This is a limited time offer subject to availability. Some restrictions may apply. This offer is only available to new groups with 25-peak room nights or more and is not valid on previously booked meetings. Break will be based on peak room nights actualized.
The Seattle Marriott Waterfront offers state-of-the art banquet facilities in Seattle, Washington, to host an event or meeting. The hotel's beautiful waterfront location is a perfect setting for a special evening or pre- and post-meeting receptions. Your guests will benefit from the Waterfront Marriott's prime location to many of Seattle's biggest tourist attractions, as well as the Seattle Convention Center.
For more information about the or to book a room at the Seattle Marriott Waterfront hotel, please visit http://www.marriott.com/hotels/travel/seawf-seattle-marriott-waterfront/
About the Seattle Marriott Waterfront
The Seattle Marriott Waterfront is the heart of downtown Seattle's most popular waterfront district. This waterfront hotel in Seattle is just steps away from the famous Pike Place Market and only minutes to major downtown attractions. Many of its guest rooms feature private balconies that offer breathtaking views of Mt. Rainier, Elliott Bay or the Olympic Mountain range. At this Seattle hotel near the convention center, guests can experience a dazzling blend of menus drawn from coastal cultures from around the world at his in-house restaurant 2100 Bar Bistro. For more information visit: http://www.marriott.com/hotels/travel/seawf-seattle-marriott-waterfront/.
# # #