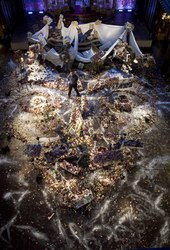 Orensanz, while manipulating various temporal currents that go in different directions, immutably positions himself with respect to the flow of time. [ Alexander Borovsky ]
New York, NY (PRWEB) December 9, 2009
The world-renowned Hermitage Museum in St. Petersburg (Studies Center) in Russia is opening a retrospective for New York City resident Angel Orensanz, "Time Split Sculpture" on December 10, 2009.
The exhibition marks the completion of a conceptual circle for Orensanz, in the sense that he has developed most of his work from a building in Lower Manhattan, one time in its history institutionally Russian (Anshe Slonim Congregation), in a neighborhood that for many decades housed the most vibrant Russian community in the US.
Orensanz's studio (the "Angel Orensanz Foundation") has been for decades in the heart of the Lower East Side; what for many previous decades was fondly called the 'Nevsky Prospect' of America. The Foundation continues to be a dynamic force in the New York cultural scene, as witnessed by the huge response to its participation in the Governor's Island last Summer Festival.
The exhibition will be presented in three large exhibit rooms through installations, drawings, video, and large scale photographs, representingmore than twenty years of Orensanz's work. The program curator is Sophia Kudriavtseva, head of the International Youth Education Center of the Hermitage.
Concurrently with the exhibition, the Hermitage will be hosting various press conferences and symposia; today's panel investigated the "Parallels of the Russian Avant-Garde and the Art of Angel Orensanz" at the Mitiki-Vhutemas Art Center. Mitiki is a cultural movement initiated during the perestroika that has always gone in the forefront of the contemporary Russian arts. There will be an open assembly at the University of St. Petersburg, presented in partnership with the Adelante Center, a branch of the Cervantes Institute in St. Petersburg.
More presentations were scheduled for December 9 with art writers and photographers from St. Petersburg and Moscow and on the 10th of December there will be a major panel discussion in the Hermitage itself, at the Department of Education. Participating scholars Dr. Alexander Borovsky, director of the State Russian Museum, St. Petersburg; Dr. Tatiana Borodina, director of the State Repin Museum (St. Petersburg), and Nikolai Blagodatov, member of the St. Petersburg Academy of Contemporary Art.
###