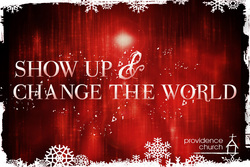 "For every adult that shows up we will donate enough on their behalf to provide clean, safe drinking water to someone in need. Everyone in attendance will save someone else from a lifetime of thirst."
Frisco, TX (PRWEB) December 10, 2009
At only 5 years old Providence Church is moving into its second new building. This one is on Preston Rd, just north of the Lebanon intersection in Frisco TX. And rather than spending thousands of dollars in donations on a traditional marketing campaign they have decided to partner with Water Missions Intenational to provide the poorest on the planet with clean, safe water.
Providence Church claims to be built on "glorifying God through the transformation of lives." That's an externally focused, outwardly driven mission. But, as a new church moves into a larger building the mind is almost forced to think internally focused things, like, "how are we going to fill all these seats" or "how do we bring in as much money as possible." This can be a dangerous time for a church because if it is not careful, protecting what has already been built becomes more important than continuing to strive for the mission of Christ in their city. Many churches risks less the larger they get because they seem to have more to lose. But this is not the case at Providence. Lead Pastor Barry Keldie says, "We want to take this opportunity when God's giving us a great new building, to reinforce our core teaching, 'God has given us life, and calls us to give our lives away.'"
In order to reinforce that teaching, Providence is taking a radical step for it's first service on Christmas Eve. For each person that rsvps and shows up to a Providence Christmas Eve service the church will donate, on the attendees behalf, to Water Missions International, enough to provide clean, safe drinking water for life to someone in desperate need.
Keldie says, "We could have spent thousands of dollars marketing our services and trying to let people know how great the music and message would be, but we thought this was much more significant and would be much more in line with the kind of church we want to be. It's never about us, it's about giving life away in such a way that God is glorified and lives are changed forever. What a Christmas Eve this will be!"
Go to http://www.christmaseveatprovidence.com and RSVP your family for the 5pm or 7pm service. The message of the Christmas story is that Jesus showed up and the world changed. Just by showing up to a Providence Christmas Eve service you can change a life, forever.
###