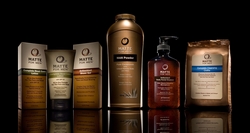 Men are clearly seeing the difference in how Matte For Men performs versus the competition and are responding to our message that skin care does not have to be complicated…just effective
New York, NY (PRWEB) December 10, 2009
Lescoja Corporation, a leader in the men's skin care category, today announced the launch of its' new Matte For Men website (http://www.MatteForMen.com). Designed by Unit 7 to capitalize on the brand's strengths, the site is a critical part of their growth strategy. "We have been very fortunate in regards to our Brand's growth even during the current economic climate. Men are clearly seeing the difference in how Matte For Men performs versus the competition and are responding to our message that skin care does not have to be complicated…just effective" reports Lee Jacobs, President of Lescoja. "While we have seen incredible results based on 'word of mouth', the continued growth and interest in the Matte For Men line makes it the right time to introduce a truly innovative, customer-friendly website."
"Even when there is a downturn in the economy, there will always be a demand for products that work well and offer true value. We hired Omnicom's New York-based Unit 7, a relationship marketing agency, to design and implement a website that helps us convey this idea to existing and potential customers" says Jacobs. "Unit 7 has done an incredible job creating a new web experience that is not only easy to use and highly informative, but true to the Brand's vision."
As part of a comprehensive plan to elevate the brand, the new site is scheduled to be launched in early December. "We wanted to develop an online presence that not only allows a man to shop for the finest grooming products available, but also provides valuable information on how to care for their skin in a simple, straight-forward manner. Fresh content will be available so that our customers will see the site as a resource for the latest skin care information. The new site is definitely developed with our customers in mind" added Jacobs.
In conjunction with the website rollout, Lescoja plans to launch their new Matte For Men Hand Crafted Natural Cleansing Bar. As the first premium organic soap developed with men in mind, the new cleansing bar thoroughly cleanses without drying and is mild enough for daily use on the most sensitive skin. Using only the highest quality ingredients, the natural soap is handmade and certified organic to USDA standards. While taking over six weeks to produce, the end result is a face and body bar that lasts twice as long as most other soap bars. The organic oatmeal and lavender formula not only relaxes skin pores, but gently exfoliates as well.
"With our growing list of retail partners, such as Sephora and Aria, we are poised to have another strong year… and for that, we are thankful" concluded Jacobs.
For further information, photography or product samples, please contact Steven Summers at mediarelatons(at)lescoja(dot)com
About Lescoja
Lescoja Corporation is a leader in developing and marketing innovative men's grooming products that address specific consumer needs in a straight-forward and effective manner. Their product line includes the acclaimed Matte For Men Complete Face and Head Care Lotion, as well as the award-winning Matte For Men Man Powder. The Company is privately held and headquartered in Marana, Arizona.
About Unit 7
Omnicom's Unit 7 is a relationship marketing / CRM agency providing full service in strategic development, marketing, creative, and digital / technology solutions. The Company is headquartered in New York City.
###