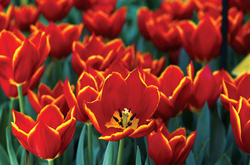 In 2009, 96% of Go Ahead Tours' customers said they will travel again with Go Ahead Tours or recommend the company to their friends.
Cambridge, MA (PRWEB) December 14, 2009
Go Ahead Tours, an international leader in European tours and worldwide tour packages, has created two early summer special departures that are sure to please travelers who have a penchant for European literature or those eager to see the vibrant blooms debuting at The Chelsea Flower Show.
According to Christy Waller, Go Ahead's Director of Marketing, the company's European tour packages remain so popular with customers, it just made sense to accentuate their European tours with exciting special events like The Chelsea Flower Show. "Special departures aren't new to us," Waller said. "But because of their increased popularity, we want to give our customers the chance to see a side of Europe they haven't seen before and attend special events that they, otherwise, may not be able to see on their own."
And travelers couldn't be happier. In 2009, 96% of Go Ahead Tours' customers said they will travel again with Go Ahead Tours or recommend the company to their friends. "We believe customer satisfaction is of the utmost importance," said Waller. "That's why we're always looking at new ways to give our travelers the vacation they're looking for, without the hassle of researching and planning it all themselves."
Whether it's a page-turning exploration of literary Europe's Robert Burns and William Shakespeare or renowned entry into the celebrated Chelsea Flower Show, Go Ahead Tours enhances the travel experience with European tours that celebrate the passion and interests of its travelers. And while they're on tour, travelers enjoy the local touch and unmatched service provided by Go Ahead's knowledgeable Tour Directors, as well as knowing their round-trip airfare, hotel accommodations, transportation, most meals and local guided sightseeing are all covered in their tour package.
A Literary Tour of London, Edinburgh & Dublin
11 Days from $3,369 USD*
Special Departure: June 3, 2010
London, Paris & The Chelsea Flower Show
9 Days from $2,849 USD
Special Departure: May 23, 2010*
Established in 1990, Go Ahead Tours (http://www.goaheadtours.com) offers over 75 high-quality escorted tours around the world to travelers—both seasoned and new—who are looking to learn more about the world and themselves. Committed to breaking down barriers of culture and geography, Go Ahead provides customers with superior quality, exceptional value and an unsurpassed Best Price Guarantee; that is, if you find the same tour for less, Go Ahead will match the price. Go Ahead's parent company, EF Education, was founded in 1965 and is the world's largest private educational travel company.
*All prices are based on exchange rates, airfares, fuel prices/surcharges and land costs at the time of pricing (July 13, 2009) and are therefore subject to increase. Please note: Between $90 USD and $325 USD in government taxes and fees with respect to air travel, including the September 11th Security Fee, and port taxes are not part of the tour price.
###