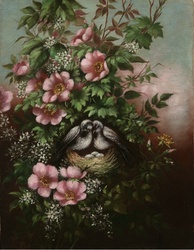 I am calling this painting the Last Dusky on Earth. I believe this painting is destined to be the greatest bird and floral work done by Johnson Heade
Jacksonville, FL (Vocus) December 11, 2009
A retired military man in Jacksonville, Florida has recovered a Martin Johnson Heade nineteenth-century oil painting at a local flea market. The painting is signed by the artist, and features the now-extinct Dusky Seaside Sparrow (Black Shore Finch.)
Martin Johnson Heade was a prolific American painter known for his salt marsh landscapes, seascapes, portraits of birds, and still life. Art historians consider him one of the most important American artists of his generation.
While rummaging through paintings at a flea market, Mr. Victor Hazon Hall spotted the 18"x14" oil painting, among stacks of reproductions.
"I immediately noticed the beauty of this painting, and as I turned it around, I was shocked to see the signature of Martin Johnson Heade on the painting's stretcher," said Hall. Research proved the signature is consistent with other Johnson Heade works of art. "I am calling this painting the Last Dusky on Earth. I believe this painting is destined to be the greatest bird and floral work done by Johnson Heade," said Hall.
The Dusky birds are prominent in Hall's recovered composition. Throughout his life, Johnson Heade was devoted to protecting bird species. The Dusky bird is now extinct due to encroachment on its habitat. The Dusky was found in only one place on earth, Merritt Island near St. Augustine, Florida. St. Augustine was Mr. Heade's home from 1883 until his death in 1904.
The recovered painting's colors are consistent with other paintings by the artist, as evidenced in the identical color and structure of the hay in the bird's nest. The dying flower in the painting may be a metaphor that this particular species' days were numbered. The Dusky was the nation's first bird to become extinct after the list was created in 1966.
Hall submitted the painting to testing by a well-known art conservation restoration center in Atlanta. The results confirmed the original integrity of the oil painting. The painting, ground, coating, tabbing and stretcher are consistent with confirmed works by Johnson Heade. Hall believes further forensic testing can provide written proof of his painting's authenticity.
For more information on this work of art, please contact Victor Hazon Hall at 914-671-5901. Hall is a retired Sergeant First Class of the United States Army, and he was on active duty for 22 years.
###