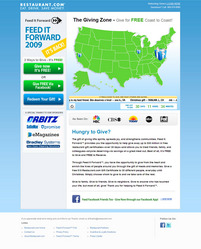 2009 has been a challenging year for many Americans and a down economy has the potential to deprive people of one of the greatest gifts of all, the gift of giving
Arlington Heights, Ill. (PRWEB) December 9, 2009
Restaurant.com recently launched "Feed It Forward," on Thanksgiving Day, an online initiative celebrating the gift of giving during the down economy by enabling people to give away--at no cost--$30 million of Restaurant.com gift certificates up until Christmas. Within the first 12 days of launch, people have already given away $5.2 million worth of gift certificates. By visiting http://www.Restaurant.com/FeedItForward, consumers can continue to share the remaining gift certificates for free and experience the joy of giving.
"2009 has been a challenging year for many Americans and a down economy has the potential to deprive people of one of the greatest gifts of all, the gift of giving," said Cary Chessick, president and CEO of Restaurant.com. "The overwhelming number of positive responses we've received from Feed It Forward participants reminds us all that the gift of giving lifts spirits, spreads joy, and strengthens community."
Feed It Forward is built upon a single giving Web site, http://www.Restaurant.com/FeedItForward, stocked with three million, $10 Restaurant.com gift certificates totaling $30 million. The site allows consumers to go online to give gift certificates to friends, family, co-workers and people who might not otherwise make their holiday gift list. Restaurant.com gift certificates are sent via email and do not require shipping or mailing. On a first come, first serve basis, gift givers can choose as many as 30 different people to give to every day for the length of the initiative. Gift recipients decide where to dine among more than 6,500 participating Restaurant.com restaurants nationwide.
Feed It Forward has attracted givers and receivers from coast to coast as a way to spread holiday cheer in spite of economic strain. For many people, Feed It Forward exemplifies the "reason for the holiday season." Since the initiative launched, Restaurant.com has been flooded with letters of appreciation from participants--parents, the recently unemployed, friends, co-workers and more--who have shared gratitude for allowing giving and receiving gift certificates for free.
Cathy M. writes, "Thank you so very much for allowing me to send out gift certificates to my loved ones. Without you I wouldn't have been able to do very much this holiday season. You truly know what the 'spirit' of Christmas means." Diane T. shares, "Thank you so much for allowing me to give gift certificates to the special people in my life. I was not sure what I was going to do for my family and friends this year since money is tight, so thank you for this amazing opportunity!"
According to National Retail Federation's 2009 "Holiday Consumer Intentions and Actions Survey," U.S. consumers plan to spend an average of $682.74 on holiday-related shopping this year. By participating in Feed It Forward every day for 30 days, consumers have the opportunity to exceed that average and give $9,000 worth of Restaurant.com gift certificates - at no cost.
Individuals nationwide have equal opportunity to give the free Restaurant.com gift certificates away until Dec. 25. People can visit http://www.Restaurant.com/FeedItForward to participate and learn more about the Feed It Forward initiative.
-------------------------------
Online Media Release with Video, Images and Press Release:
http://www.a-1broadcast.com/onlinemediarelease/feeditforward.html
-------------------------------
About Restaurant.com
Restaurant.com is the trusted and valued source connecting restaurants and diners nationwide. The company offers savings at more than 13,000 restaurants nationwide with more than 20,000 gift certificate options. Restaurant.com brings people together to relax, converse and enjoy well-prepared and -served meals at affordable prices. To date, Restaurant.com customers have saved more than $100 million through the gift certificate program. Restaurant.com has operated since 1999 and is based in Arlington Heights, Ill.
###