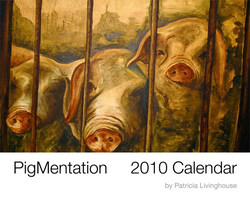 "These paintings are just a whimsical take on classic art... I wasn't trying to be controversial, but I'm flattered my art can provoke such an active discussion."
Los Angeles, CA (PRWEB) December 10, 2009
PigMentation by Patricia Livinghouse, the 12-month calendar available now for 2010, shows us what art would look like today if some of our greatest artists had been huge fans of pigs.
Each page of the calendar features a beautiful painting that mimics famous masterpieces, but since the subject matter is pigs, the calendar has "Starry Piglets" by Vincent Ham Gogh, and "Cubed Ham" by the Cubist Pablo Pigcasso. Other Masters represented are JacksHam Pollock, Norman Porkwell, Roy LichtenSwine, and Thomas GainsBoarough.
While the calendar and the paintings used in it have been well received by both pig lovers and the art crowd, there has been some controversy regarding a "Madonna and Child" style painting--inspired by MichelHamgelo. The debate isn't about Mary and Jesus though—they are human in the painting—it's about the title of the piece, "When Pigs Fly," which could suggest mockery if taken the wrong way.
"These paintings are just a whimsical take on classic art," says Livinghouse. "I simply wanted to do a Michelangelo-style painting and I wanted to use that famous saying 'when pigs fly.' Putting wings on pigs and depicting them as angels seemed a perfect way to do both. I wasn't trying to be controversial, but I'm flattered my art can provoke such an active discussion."
So why did Livinghouse combine pigs and fine art in the first place? To hone her artistic skills, Livinghouse took a painting class. Each assignment was to be inspired by a different famous artist, but it also required her to use the same motif throughout the course.
"I couldn't think of anything in particular that grabbed my attention," says Livinghouse. "It was my Indiana farm mom who suggested pigs because she thought they would be fun to paint."
PigMentation 2010 is sold at the Los Angeles County Museum of Art, and is available online at Willow Creek Press, Amazon, Borders, Calendar Club, and Barnes & Noble. Visit pig-mentation.com for more information and pictures.
About Patricia Livinghouse
With over 50 commercials in her pocket, Patricia Livinghouse is an accomplished actress, spokesperson and lifestyle model. She has worked extensively in Italy and Mexico, and traveled throughout the United States as a spokesperson, (IBM, Canon, Lincoln Mercury, AT&T). Patricia holds a BA in Broadcast Journalism from USC, and studied at Cambridge, England.
Media Contact:
George Page
818-415-4154
pig-mentation.blogspot.com
###