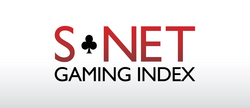 New York, NY (PRWEB) December 9, 2009
The S-Network Global Gaming Index℠ (TICKER: WAGR) will add six new components, effective 6:00 PM (EST) Sunday, December 20, 2009. One stock will be deleted from the index, changing the number of index components to 56. The changes result from the quarterly rebalancing of the index.
The additions to WAGR are:
Aruze Corp. (TICKER: 6425 JP)
Great CDN Gaming Corp. (TICKER: GC CN)
TIPP 24 AG (TICKER: TIM GR)
Wynn Macau (TICKER: 1128 HK)
SJM Holdings (TICKER: 880 HK)
Sands China (TICKER: 1928 HK)
The deletion from WAGR is:
Monarch Casino and Restaurant Inc. (TICKER: MCRI US)
A complete list of constituents and weights will be posted on the S-Network Global Gaming
IndexSM web-site, (http://gaming.snetglobalindexes.com/about_the_indexes.php).
The S-Network Global Gaming Index℠ is a capitalization-weighted, float-adjusted index of the most prominent gaming stocks in the world. To be included in the WAGR index, stocks must pass multiple screens, including for capitalization, float, exchange listing, share price and turnover.
Detailed information, including constituent data, rules and price information, on the S-Network Global Gaming Index℠ is available at http://www.snetgamingindex.com. Data is also available through most vendors of financial data.
Index: S-Network Global Gaming Index℠ (USD)
TICKER: WAGR
Index: S-Network Global Gaming Index℠ (EUR)
TICKER: WAGRE
Joseph LaCorte
S-Network Global Indexes, LLC
646-467-7927
http://www.snetgamingindex.com
###