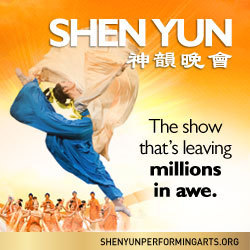 "Brilliant choreography… extravagantly beautiful." – Broadway World
Detroit, MI (PRWEB) December 9, 2009
On January 2 & 3, 2010, Shen Yun Performing Arts will grace Detroit at the Detroit Opera House (1/2 2:30, 7:30pm and 1/3 4:00pm).
Oriental Culture Association and Michigan Falun Dafa Association proudly present the world-renowned Shen Yun 2010 shows in Detroit. Shen Yun Performing Arts (formerly known as Divine Performing Arts) is the world's premier classical Chinese dance and music company. Its performances draw inspiration from the legends, values, and spirit that defined traditional Chinese culture for centuries before its erosion under decades of communist rule.
In 2009, it dazzled 800,000 live audience members with 320 performances in 102 cities across North and South America, Asia, Oceania and Europe, and has already graced many of the world's greatest stages, including New York's Radio City Music Hall, London's Royal Festival Hall, Washington DC's Kennedy Center, and Paris' Le Palais de Congrès. Shen Yun's success has been miraculous, and artists and critics alike are saying its productions are among the best in the world.
The company's stories of divinely inspired culture, from those of ancient Buddhist and Taoist traditions to those of modern-day epics in China, evoke positive messages of virtue, compassion, and strength of the human spirit, leaving audiences educated, uplifted and inspired.
Through the universal language of dance and music, Shen Yun Performing Arts weaves wondrous stories of heavenly realms, enchanting dreams, ancient heroic legends and modern-day epics.
With performers that feature the roar of Tang Dynasty drums or the elegant costumes and movements of the ladies of Qing Dynasty's royal court, the Shen Yun Performing Arts Spectacular brings audiences back in time. In addition, you may witness the colorful and distinctive folk and ethnic dances that allow you to go herding on the Mongolian plains, or immerse yourself amidst spring's Forsythia blossoms…
With gorgeous pageantry, a dulcet and powerful full orchestra that brings eastern and western instruments together, and state-of-the-art backdrops, the Shen Yun Performing Arts Spectacular is a "can't miss."
Check http://showsdetroit.com/prweb/ for more information
###