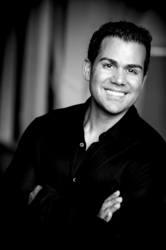 Vision allows you to see at great lengths, but insight allows you to see around corners.
Los Angeles, CA (PRWEB) December 15, 2009
Ron Kardashian, published author, fitness expert and life coach, opens offices in Beverly Hills and teams up with LEGACY GYM, a new fitness clinic in the Los Angles area. Simultaneously, revealing his amazing –"30 Second Diet!"
He's the Kardashian you might not have heard about, but will be seeing a lot of in the near future. Ron Kardashian has actually been at it for some time now, helping others as a life coach, fitness expert, and multi-media personality since 1994. This successful and personable virtuoso has helped hundreds of grateful clients realize their full mental, physical, and spiritual potential for the past fifteen years.
In a heartfelt effort to make the world a better place, Ron now brings his integrated and holistic approach to Beverly Hills via the life-transforming Kardashian Method in this exciting venture with celebrity trainer Michael George, (whose clients include Meg Ryan and Reese Witherspoon). Kardashian is an NSCA-certified fitness expert and life balance coach who keeps individuals at the top of their game as he helps them achieve goals never thought possible. As a leader of a health-promoting nonprofit since 2002, Kardashian offers the benefits of his Legacy to athletes, entertainers, celebs, and professionals alike. well as being a highly sought after fitness spokesperson.
In fact, you can get started today! And you don't have to worry about keeping up with Kardashian, as his fitness programs are fashioned to fit specific, individual needs. However, those in search of wellness, beauty, and optimal life development outside of Beverly Hills and the Los Angeles area are also in luck, as Kardashian's second book, The 30 Second Diet, is due for publication in early 2010. This absolutely groundbreaking text will empower you with the ability to create a 30-second health plan that increases your lifespan. Kardashian also offers his services worldwide as a fitness spokesperson, with offices in San Francisco and Los Gatos, CA, and provides coaching cross-country as well as abroad over the phone.
Ron is famous for saying; "Vision allows you to see at great lengths, but insight allows you to see around corners. Were giving people insight into there greatest investment-THEMSELVES!"
Kardashian is booking now to achieve your New Year's resolution. The Kardashian Method will bring you extraordinary living in body and soul. You will enjoy luxury, contentment, and health all in one appointment.
Join Ron Kardashian in making your dream to look and feel like a star a reality.
CALL TODAY to make your appointment! 1-888-918-4325 or go to http://www.kardashian.tv.
Ron Kardashian has been featured on The Paula White Today Show, (Paula White's clientele includes Donald Trump), LeSEA Broadcasting Network, Daystar, TBN and has been the featured guest on radio stations around the world. He has also received two consecutive nominations for Personal Trainer of the Year, an award granted by the National Strength and Conditioning Association, for his contributions in life coaching for CEOs and leaders domestically and internationally.
For media appearances contact Michael Golland @. 1-888-918-4325 ext. 1. Or e-mail any inquiry to: Publicity(at)kardashian(dot)tv.
# # #