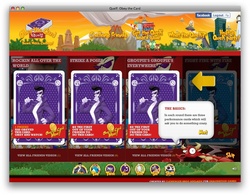 This holiday season, we hope people will be Quelfing themselves instead of Elfing themselves
Los Angeles, CA (PRWeb UK) December 10, 2009
Quelf is the latest cult boardgame to enter the social media space with the launch of Quelf.com using Facebook Connect. Quelf: Obey The Card is one of the first interactive applications to integrate webcam and Facebook Connect using the Wowza Media Server Pro platform; combined these technologies enable players to login, film themselves and share random Quelf videos with friends on Facebook and Twitter.
"Other boardgames have taken advantage of the social networking space but few have leveraged these technologies to create an integrated and entertaining online experience that is as much fun as the board game itself," says Ms. Rose Odeh, Chief Marketing Officer for Imagination Games.
Quelf is an unpredictable party boardgame that "gives random a new name". Quelf: Obey The Card takes the most random facets of the board game online allowing players to challenge Facebook friends and record themselves performing one of twenty-eight challenges including, 'Rock stars are constantly snapped by the paparazzi. Strike as many rock poses as you can in ten seconds and scream, 'rock 'n' roll!' with each pose' and 'Pick an inanimate object nearby and try out your cheesiest pick-up line'.
Through word of mouth, Quelf has become a hit at retail and with friends and families playing boardgames. Hundreds of personal Quelf fan videos and reviews have been posted on sites such as YouTube,Vimeo, Facebook and Twitter. Imagination Games with Clemenger BBDO created Quelf: Obey The Card to give fans of the boardgame a social way to connect, play and share the fun they have playing Quelf with friends.
"This holiday season, we hope people will be Quelfing themselves instead of Elfing themselves," says Ms. Odeh.
Quelf: Obey The Card is accessed via http://www.quelf.com. Players require a webcam and a Facebook account to run the application and successfully complete the twenty-eight Quelf Challenge cards in the game.
Facebook® and Facebook Connect® are registered trademarks of Facebook Inc.
About Imagination Games
Imagination Games is a global, multi-platform games and media company that creates, produces and distributes the most compelling, interactive entertainment to the world including Fact or Crap and Battle of the Sexes.
With interests across radio and television, interactive television, traditional games and puzzles, DVD games, console games, mobile gaming, video-on-demand and downloadable games, Imagination has reinvented the way people play interactive entertainment.
Imagination distributes products in North America, United Kingdom, Europe and Australia, and under license in 43 countries. It has offices in the USA, Canada, Europe and Australia.
http://www.imaginationgames.com
Available For Interview
Rose Odeh – CMO, Imagination Games
###