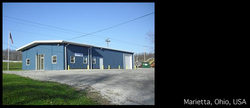 The new facility demonstrates Esco's commitment to the North American market
Hatboro, PA (PRWEB) December 11, 2009
Esco announces the opening of a NEW 2nd North American facility in Marietta, OH. The facility will serve as a technical service, training and logistics center to support Esco's growth in the North American market, specifically in the area of New Product Introductions (NPI) for temperature-controlled laboratory equipment.
"The new facility demonstrates Esco's commitment to the North American market," said XQ Lin, Esco President. "Furthermore, the Marietta, Ohio facility enables Esco to access local talent with unique skills in the area of temperature-controlled laboratory equipment."
About Esco:
Since 1978, Esco has emerged as a leader in the development of controlled environment, laboratory and cleanroom equipment solutions. Products sold in more than 100 countries include air showers, biological safety cabinets, downflow booths, ductless fume hoods, fan filter units, hospital pharmacy isolators, IVF workstations, lab animal research products, laboratory fume hoods, laboratory incubators, laboratory ovens, laminar flow cabinets, microplate shaker/incubators, modular cleanrooms, PCR cabinets, thermal cyclers and instrumentation, and powder weighing balance enclosures.
###