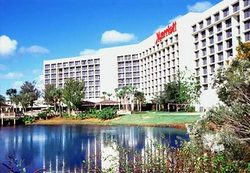 Orlando, FL (PRWEB) December 11, 2009
Safe and easy access to air travel from Orlando will give air travelers peace of mind while traveling to and from Florida's magical city. With Orlando Airport hotel deals, like the Marriott's "Park Here, Fly There" promotion, airport access couldn't be easier or safer. Travelers are invited to stay in the comfort and security of plush hotel accommodations and enjoy a hassle-free departure from Orlando and leave their vehicle until they return.
By staying the night before departure, there's no rushing to get to the airport and no hurried anxiety. With hotel deals near Orlando Airport such as the "Park Here, Fly There" travelers can affordably plan an extra night into their travel schedule and have the opportunity to be well rested and relaxed for their trip, whether traveling for business or pleasure. In addition to lavish overnight accommodations, the Orlando Airport Marriott hotel provides guests who take advantage of the "Park Here, Fly There" Orlando, FL Airport hotel package with complimentary 24-hour shuttle service to Orlando International Airport, just a few short minutes away. One of the most exciting Orlando, FL Airport hotel deals available, this extraordinary service provided by the Marriott offers guests safe, easy and stress-free access to the airport with no rushing for airport parking, no claim tickets and no high parking fees. With this special promotion, guests will enjoy complimentary self-parking for up to eight days and seven nights.
This contemporary Orlando Airport Marriott not only boasts a beautiful indoor/outdoor pool, a modern fitness center, delicious on-site restaurant options and Fidalgo Bay coffee, but is conveniently located just one mile from the airport, making this offer a great deal for those flying out of Orlando. With fine luxury hotel features such as a choice of on-site dining, wired and wireless high speed internet access, and luxurious guest room accommodations, air travelers can relax comfortably and depart rested. An on-site fitness center with state of the art exercise equipment is also available along with a whirlpool and both indoor and outdoor swimming pools, so travelers can unwind before retiring to the lavish comforts of these first class hotel rooms, where great amenities, soundproof windows and luxury bedding will provide every opportunity for a good night's rest.
For busy travelers needing access to business services, the Orlando Airport Marriott offers a full service business center with computers and printers along with copy and fax service so travelers have access to everything they need to complete any last minute business details before departing.
When making online reservations for the "Park Here, Fly There" hotel deal, be sure promotional code PKF appears in the Corporate/Promotional code box. For telephone reservations, call 1-800-380-6751 in the United States and ask for promotional code PKF. Room rates for this great offer are valid seven days a week through March 31, 2010 and range from $129 to $259.
# # #