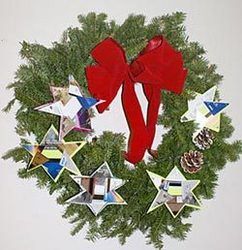 The only way to get through this recession is with a sense of humor" says Grant. "If you're in real estate right now, you've got a better shot at selling a wreath, than selling a house!" That's why we launched www.RecessionWreaths.com. Its gallows humor!
Saranac Lake, NY (PRWEB) December 10, 2009
The fact that most real estate agents have a better chance of selling a wreath right now, than actually selling a house, also played a role in their decision.
Our first, and now hugely popular 'Cut-Up Credit Card' Wreath came about after a bunch of our agents pulled their useless credit cards out of their wallets and threw them into a pile. The inspiration to cut these cards up into an attractive snowflake pattern and glue them to a balsam wreath came later, like so many great ideas.
The 'Credit Card' Wreath was quickly followed by another popular theme - The 'Nothing Says You're Fired! Pink Slip' wreath adorned with pink termination slips from some of America's largest Fortune 500 companies.
This was soon followed by our 'Down On Your Luck - Scratch-Off Lotto Ticket' Wreath decorated with hundreds of losing lotto tickets. This wreath required the cooperation of several hundred agents (all scratching in unison) in a desperate bid to reverse their fortunes.
Like so many great internet start-ups, http://www.RecessionWreaths.com is powered by unbridled creative passion, coupled with no funding.
But we do have a sense of humor...
If you would like to learn more about the unique vision of our company, and the unremarkable people behind it, please visit our web site at http://www.RecessionWreaths.com
We invite you to preview some of our other Recession Wreath ideas:
National Deficit Wreath
It just keeps growing & getting larger. When you are done with it, simply take it down and give it to your children.... See if they can figure out how to get rid of it.
401k wreath
It starts out full and loses half of its needles in a month.
You can submit your own recession wreath concept by visiting http://www.RecessionWreaths.com.
If we like your idea, we'll put it up on the website and give you credit. This just might be the easiest credit you 'll ever get.
###