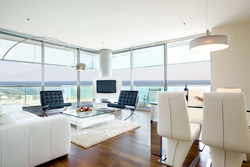 Chatsworth, NJ (PRWEB) December 11, 2009
Rent Top Apartments has launched a new website. The Company was launched in 2003 providing quality holiday and business accommodation in Barcelona and Madrid.
"The company continues with excellent offer of high quality accommodation in Barcelona and Madrid. The travelers to Barcelona will have a tough decision choosing and deciding among the apartments and locations that can be found in the offer: the attractive city centre apartments or brand new exclusive apartments in the beach area that reveals a new and lux Barcelona.
New website allows all Internet users to reserve their holiday home online using a very simple and easy-to-use booking process. After reviewing the apartment description the client just needs to press book and fill in the personal information and will secure its vacation rental after paying at convenience 25% of the apartment cost.
Don't know the city you are going to? The Site will help you with its About the City link offering the access to the most important information that will certainly help you to make your stay enjoyable.
The website has received a considerable amount of visits during its first days and many of the visitors have already made their decision for the New year's Eve and the upcoming World Mobile Congress that takes place in February.
Your holiday apartment is waiting for you at http://www.renttopapartments.com.
###