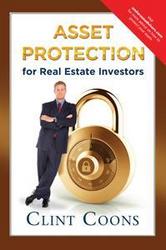 It provides in depth, easy to understand analysis of different asset protection entities as they relate to real estate investing.
Las Vegas, NV (PRWEB) December 11, 2009
Clint Coons has announced the publication of his new book "Asset Protection for Real Estate Investors" - a practical guide to one of the most misunderstood area of investing: Asset Protection. "Too many investors are focused solely on the accumulation of assets and not on the preservation of those assets." The result, Coons said is "investors giving away too much of what they have earned."
How do they give their money away? According to Coons, "Failing to engage in asset protection planning leads to overpayment of taxes, needless exposure to liability risks and losing or tying up real estate for year in probate." "A plan does not have to be complex to be effective - in fact, some of the most effective strategies for asset protection are the simplest and cheapest." He added with a jest "in asset protection, the most effective strategy is often to look like you own nothing."
Keeping your plan simple is a major them in the book, according to Coons. "I have been involved in investment real estate since I was a kid fixing up my father's apartment complexes." He adds "the most effective solutions are sometimes the easiest to implement." "I wrote the book to share with other real estate investors the solutions that really do work - that are practical and can be implemented by anybody."
So what should readers expect to learn? Asset Protection for Real Estate Investors examines many of the entities and strategies used by real estate investors today to protect their wealth and then offers solutions given a variety of investment situations such as:

How to protect your wealth through exemption planning;
When you should avoid asset protection planning;
How land trusts can benefit you when it comes to real estate investing;
How you can control everything but appear to own nothing;
When you should use a corporation for your real estate investing and when you should avoid them; and
The benefits of forming business entities in Nevada or Wyoming and when you should avoid using these jurisdictions in your planning.
About Clint Coons: Clint Coons is a successful real estate investor in his own right and is the Manager of Anderson Business Advisors and Law Group, the nation's premiere provider of asset protection and business planning services for real estate investors and small business owners. Mr. Coons has authored numerous articles and publications on business structuring and tax planning. He is nationally recognized for his ability to take complicated laws or structures and explain them in crystal clear terms. This, combined with his dynamic speaking and on-camera personality, has made him a favorite at asset protection and tax related programs across the country. Clint brings a fresh approach to utilizing the laws to achieve his three primary goals of asset protection, tax reduction, and estate planning. Simply put, he assists people with overcoming the obstacles of lawsuits, income taxes, and death taxes. He works with individuals all across the country, extensively sharing his strategies with those people seeking to keep more of what they earn. Through his innovative and dynamic strategies, he has literally helped thousands of people save millions of dollars.
# # #