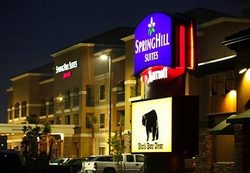 Madera, CA (PRWEB) December 11, 2009
The joy of the holidays comes to life at the SpringHill Suites hotel in Madera, CA, where the hotel is supporting the Marine Corps Reserve Toys for Tots program as an official sponsor and drop off location. As the holiday season moves into full swing, all donations to the local Toys for Tots in Madera County will be distributed in Madera County, helping less fortunate children in the local community to have a brighter holiday season.
As an official sponsor of the Toys for Tots program, the Madera, CA, hotel will not only help in collecting toys, but hotel staff plan to volunteer their time to help deliver toys to households throughout the county. One of the SpringHill Suites' staff members will be dressed as Santa, as the hotel staff lends a hand in making sure the Marine Corps' Toys for Tots motto is carried out in that "Every child deserves a little Christmas". Based on last year's distribution, when over 10,000 children in Madera County received toys through the Toys for Tots holiday program, hotel staff members plan to be busy this holiday season and appreciate the help of local citizens who bring toys into the Madera, CA, hotel near Yosemite Park so they can be distributed.
By joining forces with other program sponsors and area business leaders in Madera to collect and deliver these toys, the SpringHill Suites' staff is able to help the Marine Corps meet its goal in distributing a message of hope to needy youngsters that will motivate them to grow into responsible, productive, patriotic citizens and community leaders. The Marine Corps Reserve hopes that the children who receive the gift of a shiny new toy will realize there are people who care for them and that they have not been forgotten or overlooked by the Christmas holiday.
SpringHill Suites Donates Time, Services to Madera County Food Bank
Collecting and distributing toys is not the only act of generosity at the SpringHill Suites. Staff members will join forces on December 19 to volunteer their time and services to work the food line at the Madera County Food Bank, providing food to individuals, families and senior citizens in crisis. Realizing the need for food and services continues past the holidays, the Madera, CA, hotel is also conducting a food drive to benefit the food bank that continues through January 2010 in hopes of assisting the Madera County Food Bank in its effort to maintain a year-round food supply for persons in crisis as well as for natural disaster situations.
# # #