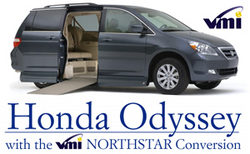 Tea, SD (PRWEB) December 10, 2009
17, November, 2009 – Mobility Classifieds, an online provider of mobility information for disabled persons, has today announced the implementation and roll out of new programs designed to help the physically challenged locate needed mobility aids to increase their freedom and their quality of life.
Mobility Classifieds functions as a specialty classifieds page, providing those in need of mobility aids with the means to locate such equipment as they require. The company also provides consumers who have such equipment in their possession with a means of ensuring it goes to those who truly need it, as well as providing dealers with opportunities to grow their customer base.
Mobility equipment can be quite difficult to locate in many areas of the nation. However, through these unique new programs, it can become a simple task. Mobility Classifieds features several categories of classified advertisements, including new handicapped vehicles, used handicapped vehicles and Honda handicapped vehicles.
In addition, two other categories have been added. The handicapped vehicle financing category is designed to help disabled persons connect with lenders able to supply vital financing for the purchase or retrofit of a handicapped vehicle. The "Find a Local Handicapped Vehicle Dealer" category is designed to put consumers in touch with professional dealers able to provide them with mobility aids, equipment installation, advice about equipment, as well as installation and retrofitting services.
Additional categories implemented by Mobility Classifieds include wheelchair lifts, scooter lifts , and wheelchair accessible minivans and handicap accessible full sized vans , which provide information about ramps, as well as available full size van models that can be made into a handicapped accessible vehicle.
Thanks to these new programs, disabled persons all around the country can now located handicapped vehicles within their area, obtain required driving and accessibility aids and more.
To find out more about how Mobility Classifieds is helping the disabled community, or to find out how they can help you locate a handicapped van or other equipment, visit them MobilityClassifieds.com.
About Mobility Classifieds: Mobility Classifieds is an online classifieds website specializing in connecting disabled consumers with needed accessories, equipment and handicapped vans to help increase their mobility. Through their unique website, Mobility Classifieds is able to reach millions of disabled persons, providing them with much needed assistance and vital information.
Written by: Bob Lundin
imedconsulting.com
# # #