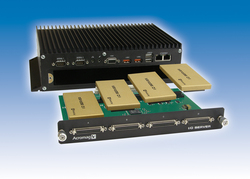 Wixom, Michigan (PRWEB) December 11, 2009
Acromag introduced the I/O Server Industrial PC featuring an internal carrier card to interface a wide selection of related plug-in I/O modules. Designed specifically to work together, this combination of a rugged, fanless box computer and conduction-cooled I/O modules provides a truly integrated system for high-performance measurement and control projects. The first release in the I/O Server line, the Model IOS-7400, is equipped with an Intel® Atom™ CPU and a whole host of interface connections for peripherals and network devices. Users can insert up to four mezzanine IOS modules, in any mix, onto the slide-out carrier card to perform A/D, D/A, discrete monitoring/control, counter/timer, serial communication, and FPGA computing functions. The interface for up to 192 channels of field I/O is handled through four high-density connectors on the front panel for clean, easy cable access. Advanced thermal technology removes heat without open vents or fans for dependable operation from -30 to 75°C. Pricing for the I/O Server PC starts at $2195 while the twenty-plus IOS modules begin at $325 each.
Many industries can benefit from the I/O Server's tightly integrated approach to embedded computers and I/O signal processing. Manufacturers will find the I/O Server package well-suited to machine control and factory automation applications. Military and homeland security system developers will appreciate the unit's integrity and high performance. The compact, rugged design will work well as a mobile server and in transportation projects such as rail or trucking. Wide operating temperature capabilities also make the I/O Server a preferred solution for outdoor signage and display systems. Additionally, the flexible I/O configurations with easily interchangeable I/O modules should appeal to scientists and technicians working on continually evolving research, simulation, data acquisition, and test & measurement projects.
The IOS-7400 PC unit features an embedded 1.6GHz CPU, 1GB DDR2 RAM, and runs on Windows® Embedded Standard or Linux®. Standard interfaces include VGA, Ethernet, serial, USB, CompactFlash®, and audio input/output.
More than 20 IOS modules are available to provide a wide variety of analog, digital, and serial I/O processing capabilities. A re-configurable FPGA module allows users to execute custom logic routines and algorithms on TTL, differential or LVDS I/O signals. Up to four IOS modules can be combined in any mix on the carrier card for flexible, high-density I/O to meet custom requirements.
About Acromag
Acromag has designed and manufactured measurement and control products for more than 50 years. They are an international corporation with a world headquarters near Detroit, Michigan and a global network of sales representatives and distributors. Acromag offers a complete line of embedded I/O products for military, aerospace, manufacturing, transportation, utilities, and scientific research applications. http://www.acromag.com
Contact:
Robert Greenfield
Marketing Communications Manager
Acromag, Inc.
Phone: 248-295-0865
# # #