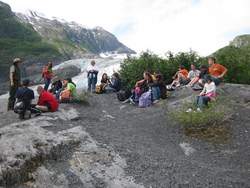 My experience was amazing. The most rewarding thing was seeing Denali with my own eyes. I think I got smarter. Josh Joy, Student
Santa Rosa, CA (PRWEB) December 10, 2009
When 13-year-old Chelsea Errichetti of New Jersey arrived in Alaska, her first surprise was how the sun never seemed to set. But after 8 days of exploring, there was plenty more to be impressed with. "I loved it. I learned so much about Alaska, its culture and landforms. My experience was amazing!"
When students like Chelsea think about global issues and the environment, all too often it's in a typical classroom, where lessons are dry, and connections to the real world are hard to find. But put those same students in spectacular real world settings, and two things happen. They become voracious learners, and the lessons tend to stick.
The not for profit Earth Explore Foundation gives teachers the opportunity and tools to spark an environmental and global fire in their students, one that could burn their whole lives. In the summer of 2010, the Foundation will offer up to 35 teachers the opportunity to travel cost free to places including Costa Rica, Alaska, Hawaii and the Rockies and share the experience with their own students. Teachers need only sign up online on the Foundation's website, and share the program in their school, to take part.
The Foundation not only sponsors programs that transport teachers and students to beautiful and sensitive places, but actually compensates teachers for doing so. In addition to supplying cost free travel, the Foundation rewards teachers when they share the message of global understanding, and environmental protection, with the students and parents in their own schools.
According to Austin, TX science teacher Amber Reue, being out in nature made a big difference for her kids. "It was a hands-on approach that I wish all my students could experience," she said, adding "It far surpassed my expectations. It was truly a trip of a lifetime."
Many students and teachers who experience an EE Foundation trip go on to share their new global awareness and environmental understanding in their schools, and communities. Doug Johnson, a middle school teacher in Minnesota told us that the "experience has widened my horizons. I learned a lot and the information learned will make me a better teacher."
As for Chelsea, Alaska left her inspired to do more, see more, and share her newfound understanding with others. "It is a place I will definitely go back to."
# # #