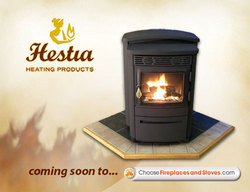 San Francisco, CA (Vocus) December 10, 2009
Hestia Heating Products and ChooseFireplacesandStoves.com join hands to sell online consumers the best in a multi-fuel pellet stove. The HHP2 works with both corn and wood pellets, a rare combination that provides versatility yet remains ecologically sound by using renewable resources.
Numerous benefits exist with the HHP2. First, it meets EPA standards for a 75% efficient biomass-burning stove, meaning buyers can claim a 30% EPA tax credit on its purchase and installation, up to a $1500 rebate. Add to that the savings on heating bills and it's simple to see why ChooseFireplacesandStoves.com is thrilled to be selling this multi-fuel stove. The Hestia Heating Products' HHP2 stove also self-starts without needing gel, is easy to fill, clean and maintain and has a range of 8,500 to 50,000 BTU heating capacity with ten comfort settings that are set at the push of a button to heat 1700 to 2500 sq. ft. easily – the size of most American homes. In addition, the stove features a large viewing area to watch one of the most astounding fire presentations in the industry – natural looking flames will enchant and amaze.
With this American made product, safety comes standard. A blocked flue and safety auto shutdown prevent disasters, while a high-limit switch will turn the stove off to prevent overheating. Also important is the unit's timed safety switch on the hopper and ash door. Owners can rest assured the Hestia HHP2 multi-fuel corn pellet stove will perform securely.
The corn / wood pellet hopper holds a lot, furthermore, so one need not keep refilling it. In fact, it has perhaps the largest capacity of any pellet stove – holding 117 lbs. of wood pellets or 130 lbs. of corn pellets. Fill it and forget it as it heats a living area better than a whole home heating system will.
"We are thrilled with our Hestia partnership and to be offering corn stoves for sale online, dedicated as we are to bringing consumers the newest and best fireplace and stove products on the market today. The HHP2 will certainly be a top-seller on our site and bring consumers convenience and comfort," says Steve Barbarich, CEO of ChooseDirect, parent company of ChooseFireplacesandStoves.com.
Hestia Heating Products' name stems from the Greek virgin goddess of the hearth and home, Hestia. She was also the goddess of sacrificial flame and earned a portion of every sacrifice to the gods. Yet Hestia Heating Products never sacrifices quality, craftsmanship or durability.
About Choose Fireplaces and Stoves.com:
The ChooseDirect factory direct model allows this new & unique company to bring the world high quality products at factory direct pricing. Since this e-commerce online retailer is involved with the product all the way down to the factory level, it cuts out many middlemen from the process and is able to offer better prices than the competitors. ChooseFireplacesandStoves.com prides itself in having a large selection of fireplaces, stoves, fireplace inserts and more, and with advanced factory coordination, it provides customers with a highly customized premium quality product.
About HestiaHeating.com:
Hestia Heating Products devotes itself to making its products entirely in the USA. Its first offering, the attractive and unique HHP2 multi-fuel corn pellet stove, meets strict EPA and Omni Test Lab standards. The HHP2 is an ecologically sound heating option with a carbon neutral footprint that uses corn, wood pellets and other renewable fuels. Using the corn stove in a living room will heat an entire home better than other conventional methods. The company's name stems from the Greek goddess of the hearth and home. Hestia Heating Products is based in Minneapolis, MN.
CONTACT:
Diana Slampyak, Director of Community Outreach
diana(at)choosedirect(dot)com
ChooseDirect
767 Bryant St., Suite 201
San Francisco, CA 94107
415-618-0681
###