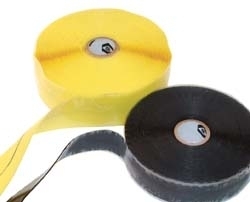 Independence, OH (Vocus) December 10, 2009
TPC Wire & Cable provides a line of self-fusing silicone tape called Vulko-Wrap. The products are designed to be used in place of typical adhesive insulating tape. TPC offers the product in several different configurations, 40mil thickness, 50mil thickness in both yellow and black. It is also offered with an embedded reinforced glass yarn for added strength. This product has been used for cable management in place of plastic wire ties. The benefit is that the reinforced Vulko-Wrap product will not cut into cable jackets and cause cable failure. Many times wire ties will create a pinch point on the cable and cause a premature failure. This can cause electrical cables to fail and cause downtime creating a costly outage. This product is also more durable and rugged than standard silicone tapes.
Product Features & Benefits:
*High dielectric strength - Provides excellent electrical protection up to 300 volts per mil, can be used for all electrical terminations.
*No Adhesive - The product only adheres to itself, no sticky residue to remove like typical adhesive tapes.
*Vulcanizes Immediately - Requires no heat - becomes fully bonded in 24 hours at room temperature, remains pliable over time.
*Specially compounded synthetic silicone elastomer - Resistant to oil, water, ozone, sunlight
*Handles extreme temperatures - Temperature range from -60F to +400F
*Available in reinforced design - Reinforced with glass yarn for added pull strength, excellent for use as cable management replacing plastic wire ties.
About TPC Wire and Cable:
TPC is a broad line supplier of high quality, high performance electrical cord, cable, connectors and accessories for the industrial market. They measure their success by the reduction of their customers' downtime and overall maintenance costs through the use of TPC products and services. TPC's line of products includes cables designed for high flex, chemical, high heat, and/or abusive environments. TPC Wire and Cable can be reached at (800) 521-7935 or on the web at tpcwire.com.
###