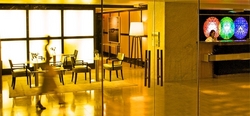 the culinary equivalent of the little black dress.
Washington DC (Vocus) December 10, 2009
All the DC hotels in the PHS group are supporting the drive by The Capital Area Food Bank this week to provide food to local children, families and senior citizens in need. The River Inn, The Quincy, One Washington Circle Hotel, George Washington University Inn, Hotel Monticello, Virginian Suites Arlington and 2424 Penn are all working to collect contributions of non-perishable food items and hygiene products from staff and guests alike. The restaurants within the Potomac Restaurant Group are also jumping to the cause, and Circle Bistro, Notti Bianche, and Dish+drinks will be collecting from their staff and patrons.
Potomac Hospitality Services are delighted to support The Capital Area Foodbank as it epitomizes the ethos of the group – to utilize local services and providers, and encourages interest and education in good nutrition.
The River Inn - Don't be misled by the quiet, tree-lined side street or stately neighborhood brownstones. At The River Inn, you're mere moments from some of Washington, DC's legendary halls of power. Our downtown Washington DC hotel accommodations are only two blocks from the Foggy Bottom Metro and the non-stop thrum of Georgetown. Experience complete rejuvenation amid the boutique elements of your freshly renovated suite -- boasting Italian-inspired furniture, ultra-plush bedding, flat-screen TVs, and spectacular views. You'll feel worlds away from the decibels of the world's most important city. Experience an intimacy and charm in short supply at many surrounding downtown Washington DC hotels. Immerse yourself in our alluring setting.
The Quincy -A Chic, All-Suite Alternative To Typical Downtown Washington DC Hotels. Among the many hotels in Washington, DC, one gets it right, inside and out - The Quincy. Our downtown Washington DC hotel suites feature a sleek, contemporary style and a congenial staff of consummate professionals. This favorite of Washington DC hotels is not a few blocks away from, or just around the corner from - but precisely in the middle of everything. At 18th and L, you're at the epicenter of DC's downtown scene. The K Street power corridor, the nightlife on M, the restaurants on 19th, and late-night strolls to Dupont Circle. Discover spacious accommodations and superior comfort in an unbeatable location.
One Washington Circle Hotel - Prominently positioned at the intersection of Pennsylvania Avenue and K Street in Washington DC, One Washington Circle Hotel is only blocks from the most notable power brokers and policy architects in the world. Discover an artistic alternative to the traditional downtown Washington DC hotel accommodations at One Washington Circle. Here, the boutique experience isn't about indifferent attitude masquerading as exclusivity, or sacrificing comfort for fancy design. It is about arousing the senses with a dash of color and personality in a city of otherwise button-downed tastes. Glowing after an imaginative, multimillion-dollar redesign, these downtown Washington DC hotel suites are contemporary and cool. Yet the service is disarmingly warm, exceptionally perceptive, and focused intently on you as an individual. Opportunistically located in the heart of the Nation's Capital, One Washington Circle invites you to be at ease, be chill, and, above all, be yourself.
The George Washington University Inn - Discover a warmer, more personal side of the Nation's Capital at The George Washington University Inn. This intimate downtown Washington DC hotel is tucked away on a quiet, tree-lined street in the prestigious neighborhood of historic Foggy Bottom. We're just two blocks from The George Washington University and the John F. Kennedy Center for Performing Arts. Make yourself at home in spacious, all-suite accommodations appointed with every comfort imaginable for short visits or extended stays. See the city at a delightful pace, with most major attractions no more than a few minutes' walk away. Stroll into Georgetown for lunch and an afternoon of shopping. Pay a visit to the White House or gaze out over the National Mall from atop the Washington Monument. Our charming Georgetown Washington DC hotel suites blend elegant colonial ambiance with a world-class downtown setting.
Hotel Monticello - Located in the neighborhood Jefferson once called home, the Hotel Monticello of Georgetown is the portrait of Washington, DC sophistication in one of its most enchanting locales. Our guests enjoy endless amenities in a richly appointed all-suite hotel setting, making each stay both pleasurable and productive. Just minutes from the business district, exquisite dining opportunities, popular Washington DC attractions, Reagan National Airport and much more, the Hotel Monticello of Georgetown is a welcome home away from home for the most discerning travelers.
While we've updated the look of our suite hotel in Washington, DC, our enduring commitment to providing exemplary hospitality remains. Inspired interior design radiates a comfortable elegance, our experienced staff is ready to assist you at every turn and charming accommodations provide the backdrop for a rewarding visit. At the Hotel Monticello of Georgetown, a typical DC stay becomes anything but.
Virginian Suites Arlington - Meet Virginian Suites Arlington. Loaded with personality, this exceptional hotel features one-bedroom and studio suites in a highly desirable location, just minutes from downtown DC and closer to Arlington National Cemetery than any other hotel. Relax and unwind in our spacious DC hotel suites, just steps from the banks of the Potomac River in Rosslyn, Virginia – each offering plenty of room to stretch out. We invite you to experience all the conveniences of a downtown hotel – without the hassle and the high price tag – and indulge in the comfort of a gorgeous setting. Uncover the fabulous location of our apartment-size Washington DC suites during your next getaway
2424 Penn - Now you can take the guesswork out of finding long-term accommodations in the nation's capital. 2424 PENN, formerly DC Suites, offers well appointed furnished corporate housing and apartments, so when you're in town for 30 days or longer, you will feel right at home! Our prime downtown location is close to the cultural, social and political hub of Washington DC, so look into 2424 PENN and quickly move into our lovely extended stay apartments.
Circle Bistro - Come and discover a warm, inviting Washington DC restaurant and bar, rooted in the traditions of French bistros, and Bouchons at Circle Bistro. Savor a creative menu of tantalizing French favorites seasoned with a dash of refinement. Like One Washington Circle itself, this modern yet modest Georgetown DC restaurant manages to feel cozy, sleek, and vibrant -- thanks to crisp service, a wondrous wine list, and a brilliant, hearth-like décor. With wonderful new lunch and dinner menus, using local fresh produce, Circle Bistro is a healthful, tasty choice for lunch, pre-theater dinner, or for dining the night away.
Notti Bianche - Rome's essence beckons nightly from Notti Bianche, an enchanting downtown DC Italian restaurant set in the lobby of The George Washington University Inn. Swoon over authentic Italian dishes that critics have called "the culinary equivalent of the little black dress." Awarded three stars from the Washington Post and a Top 100 rating from Washingtonian Magazine, this cozy downtown Washington DC Italian restaurant is one of the District's true dining delights. Savor the intimacy of this classic Italian kitchen, where just 42 seats and a world-class wine list craft an ambiance that is warm, friendly, and inviting. A favorite for the pre-theatre crowd visiting the Kennedy Center.
Dish+drinks - Prepare yourself for mouth-watering cuisine at The River Inn's onsite downtown Washington DC restaurant. The culinary world is buzzing with talk of the exciting new restaurant DISH+ drinks - showcasing a contemporary twist on American classics. Popular among theater-goers, DISH + drinks boasts a gas-lit fireplace that extends to the lobby of our hotel, surrounding guests with soothing warmth. Attention to detail sets the tone for the casual and friendly atmosphere, with brilliant sunshine streaming through the wall of windows that overlooks a street lined with decades-old crepe myrtles. Choose our downtown DC restaurant for a highly acclaimed and seasonally inspired menu.
###