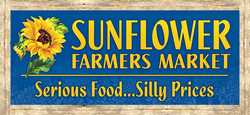 We're very excited by our new partnership with Fifth Third Bank and our ongoing relationship with the Pacific Corporate Group
Boulder, CO (Vocus) December 10, 2009
Sunflower Farmers Market, a Boulder, Colorado-based natural foods grocery chain, announced today it has raised $35 million in new financing. The funding is comprised of a $30 million five-year loan package with Fifth Third Bank and a $5 million equity investment from existing financial partner, Pacific Corporate Group.
Despite conservative lending practices in 2009, Sunflower has garnered confidence from the investment community. The newly generated capital underscores investor confidence in the growing demand for value-priced natural foods. Sunflower's mission is to provide high quality food at low prices, as stated in their motto Serious Food…Silly Prices®. This is especially relevant in an era where both the economy and health are driving market forces. Consumers are increasingly aspiring to improve their diets without the high cost often associated with natural foods.
In a year of overall economic contraction, it is notable that Sunflower Farmers Market opened seven new stores across four states in 2009, and achieved a 50% increase in sales over prior year. The $35 million financing will be used to add new stores within their existing geographical markets in Arizona, Colorado, New Mexico, Utah, Nevada, and in Texas (where it operates as Newflower Farmers Market). Sunflower management forecasts sustained growth through 2013, with more than 50 stores.
"We're very excited by our new partnership with Fifth Third Bank and our ongoing relationship with the Pacific Corporate Group," said Sunflower CEO Mike Gilliland. "Our value-priced healthy and natural offerings, along with our green efforts, seem to resonate well with consumers. We foresee continued growth and success, and hope to be sustainable partners for all current and future investors."
About Sunflower Farmers Markets
Sunflower Farmers Markets (http://www.sfmarkets.com) is a rapidly growing chain of full-service grocery stores offering consumers the highest quality natural and organic products at the lowest possible price. The company, founded in 2002, is a pioneer in developing the emerging value segment of the natural and organic foods retailing industry. They have remained true to their motto "Serious Food…Silly Prices®" since the market's inception. The company has 27 retail stores located throughout Colorado, Arizona, New Mexico, Nevada, Utah, and Texas (operated as Newflower Farmers Markets).
###