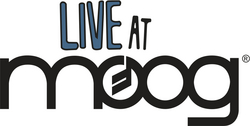 "We've captured some really amazing performances that differ greatly from the band's albums or typical stage show"
Asheville, NC (PRWEB) December 10, 2009
Today Moog Music, Inc. and Pastemagazine.com launched an innovative new web video series featuring performances filmed at the legendary Moog Music factory in Asheville, North Carolina. The series kicks off with a performance from quintessential rock innovators Yo La Tengo. Bands were given access to the Moog factory to explore and experiment with the dozens of synthesizers, guitars and effects pedals designed and manufactured here. Often the artists rearrange their songs to showcase the otherworldly sounds of Moog's instruments, yielding a performance unlike any other.
Each week a new session will debut on Pastemagazine.com's homepage. The first season features Brooklyn indie rockers White Rabbits, reggae star Matisyahu, New York jazz trio Medeski, Martin and Wood, songwriters Erin McKeown and Jill Sobule, live-electronica artist Pretty Lights, Widespread Panic keyboardist Jojo Hermann, jam-rock stalwarts moe. and the aforementioned Yo La Tengo. The series will continue with a second season debuting in the spring. Each episode features multiple songs, behind-the-scenes footage, and exclusive info on each band.
For many musicians, a visit to the Moog Music factory is akin to a kid exploring Willy Wonka's chocolate factory. "It's been great to see bands like Yo La Tengo, or White Rabbits, who have varying experience with Moog instruments, come in empty handed and eager to see what they can do with the gear," says Zac Altheimer, Marketing Director for Music Allies, the Asheville-based company producing the series. "We've captured some really amazing performances that differ greatly from the band's albums or typical stage show." Moog Music President Mike Adams agrees, "This experience has opened the ears of the bands that have visited to the sonic possibilities available with Moog gear. The bands and their fans will benefit from these free ranging musical explorations which have initial exposure here at PasteMagazine.com."
The series is engineered and recorded by Jeff Knorr, filmed and directed by Paul Schattel and Rod Murphy. Thanks to Gallien-Krueger, Blue Microphones, and Sony Creative Software.
Moog Music and its customers carry on the legacy of Bob Moog, the inventor of the synthesizer. Moog designs and manufactures electronic musical instruments, including Little Phatty® and Minimoog® Voyager® synthesizers, Moogerfooger® effects modules, Etherwave® theremins and The Moog Guitar. Founded by Bob Moog, Moog Music designs and manufactures its products in Asheville, North Carolina.
Paste magazine is quickly becoming the most celebrated entertainment magazine in the U.S. with two National Magazine Award nominations for general excellence, dozens of other awards and endorsements from USA Today, The NY Daily News and The Wall Street Journal, who calls Paste "the finest among American music titles. This highly engaged and devoted audience (including more Twitter followers than any other music magazine) goes to Paste magazine and PasteMagazine.com to discover the Best of What's Next in music, film, books, games and television.
The series was conceived and produced by Music Allies. Music Allies connects people to music through innovative marketing. Artists and brands like Ani DiFranco, Brushfire Records, Aimee Mann, the Bonnaroo Music Festival, G Love, Mason Jennings, Outside Lands, Camp Bisco, and Tennman Records look to Music Allies for their marketing expertise.
Live at Moog can be viewed at http://www.liveatmoog.com or http://www.pastemagazine.com/moog
# # #