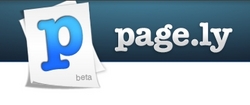 Page.ly is an end-to-end solution -Alex Wilhelm of TheNextWeb
Chandler, AZ (PRWEB) December 11, 2009
Page.ly, a white labeled website builder, now empowers web firms and internet marketers with a low cost option for clients unable to afford their services while maintaining the contact for future robust solutions.
"Prospective customers were seeking out our web services on a regular basis. Unfortunately we could not serve every client within their budget and remain profitable. We realized we were turning money away so we developed a solution to serve these clients operating on a limited budget" said Sally Strebel, Co-Founder of Page.ly. "We knew the solution had to be easy to use, offer professional results, and maintain the resellers brand and client relationship." Page.ly websites are powered by the WordPress platform and the resellers manage their client and accounts via a custom WordPress plugin.
The white labeled website reseller service includes the 2 minute setup, WordPress hosting, email, themes, WordPress install, popular plugins, and the ability to cancel anytime. Page.ly automatically updates the core of WordPress and provides nightly backups for all resellers and there clients.
With Page.ly, resellers can-
-set their own pricing
-maintain their brand
-offer a low cost solution
-up sell service packages such as SEO
-begin taking clients within two minutes.
-create unique promo-codes
Page.ly strives to help web firms and internet marketers maintain the relationship with clients on a tight budget, turn a profit, and save time on WordPress set up.
Resource Area
WordPress Website Resellers- http://page.ly/support/resellers
Create a WordPress website
About Page.ly:
Page.ly is a privately held company headquartered in the sunny state of Arizona.
###