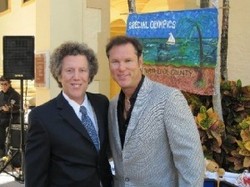 Miami, FL (PRWEB) December 10, 2009
Dr. Lawrence Shapiro, hair transplant surgeon, attended the Miami 2009 Special Olympics with special guests Gold Medalist Gary Hall, Miss Florida Megan Clementi, Firefighter Sgt. Jeff Lampert Dr. Lawrence Shapiro supports the Miami Special Olympics and congratulates those who sponsored and organized the event.
Dr. Larry Shapiro, Miami hair transplant doctor appeared with Firefighter Sgt. Jeff Lampert. Sgt. Lampert is a member of the Miami swat team and a patient of Dr. Lawrence Shapiro's. The Miami fireman participated in the yearly event. He is one of the models for the 2010 Fireman's Calendar … a very competitive selection.
Sgt. Lampert received a hair transplant in 2003 from Dr. Larry Shapiro and are both strong supporters of the special olympics. Click here to see before and after pictures.
Dr. Larry Shapiro's Hair Transplant Clinic provides hair transplant and hair restoration surgery services in south Florida, with offices in Delray Beach and Hollywood, serving Boca Raton,Fort Lauderdale, Miami, Naples Aventura, Orlando, Tampa, Stuart, Port St Lucie, Jacksonville, Jupiter, Melbourne and other Florida communities.
###