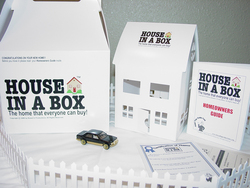 I believe the Housing Crisis is getting lost in the government shuffle and not being addressed seriously in order for people to stay in their homes
Newark, CA (PRWEB) December 16, 2009
Home Builder realizes that the current President is facing many unique challenges when he entered his Presidency in 2009 starting with the continuing War in the Middle-East, the National Budget Crisis, the erosion of the Middle-Class, Global-Warming and many other pressing issues so the home builder hopes the gift of the 'other' White House home will help remind the President of the on going Housing Crisis.
Cheryl Wharton, the developer of the unique House In A Box™ homes explains, "Our President has a difficult task ahead dealing with the numerous problems the United States is facing, for example: Health Care Reform, the Budget Deficit and so on with each issue having their own special interest groups vying for his attention." She continues, "I believe the Housing Crisis is getting lost in the government shuffle and not being addressed seriously in order for people to stay in their homes."
The Creator decided to try something simple to get the President's attention and make a statement at the same time by presenting to the President a new and free 'White House' Home that he can take with him anywhere and be the symbol of the housing crisis, such that, this 'White House' home is the only home many Americans can afford these days.
The home builder states that her staff is working diligently and legally (nobody on the staff is brave enough to gatecrash the next White House party event) to contact President Obama and deliver the 'Other White House' home to the President hoping it puts a smile on his face and at the same time make an important statement.
Cheryl realizes a House In A Box™ home is just a tongue-in-cheek answer to home ownership, but then again... why not? Cheryl continues, "I figured there must be an easier way to own a home these days. One minute you have a house and the next minute the bank takes it away. I decided to create a home that nobody can take away from you, not even voters when you leave the 'other' White House and this home is easy to maintain" adding, "A House In A Box™ is literally a house in a box and it comes with a homeowner's guide on how to live in your new home, a certificate of ownership, a key, a white picket fence and other homeowner items."
Cheryl continues, "A House In A Box™ home is a homeowner's emotional, stress free, dream home. No mortgage payments, maintenance free lawn care, no utilities or cable bills, no property taxes, no termites and no problem neighbors, because all you have to do is pack up your house and move to a better neighborhood because in real estate it's always about location, location, location."
She believes this new form of home ownership is catching on having sold the unique gift homes to people from age five to 80 years of age who are looking to buy affordable homes on the company real estate website at (http://www.boxedinproductions.net) or (http://www.thehouseinabox.com). These homes come at such a bargain that many people are purchasing a home or two just to give to their friends or family members as gifts. For more information contact Boxed In Productions at 510-739-0011
Contact::
Cheryl Wharton
PO BOX 631
NEWARK, CA 94560
510-739-0011
###