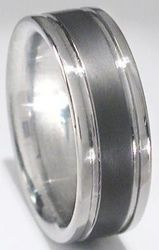 "With promise rings, you still have something that symbolically says 'we're committed', without the expensive parade."
Kihei, HI (PRWEB) December 10, 2009
Global demand for wedding rings are stagnating while demand for promise rings are soaring, say jewelry industry insiders. They offer various reasons for the trend – poor economic conditions, high separation rates, and a desire to avoid making an emotionally and financially damaging mistake.
But what exactly is a promise ring?
"It used to signify one step before an official engagement," says jewelry designer Eric Pless. "Now people seem to be just leaving it at that."
Pless has been designing and selling jewelry for 11 years. Since the economic crash in 2008, he noticed the increasing interest for promise rings – so much that he promptly invested thousands of dollars to relaunch his website, TiRings.com.
"Promise rings now rank as the first navigation button people see on the website. Wedding rings still get more internet searches, but they're stagnant, while searches for promise rings are steadily increasing. Nobody in the business can afford to ignore this."
Other major jewelry retailers have been quick to capitalize on the trend. Some online jewelry retailers have gone as far as using "promise rings" as their domain name - in some form or another - in an attempt to lure the new wave of web searchers.
As the global economy struggles to recover, some advantages seem apparent in opting to make a commitment with promise rings.
"There's sense in it," notes Pless. "You avoid the ordeal of a wedding, as well as the traditional diamond ring, which many insist should cost the man three months wages. With promise rings, you still have something that symbolically says 'we're committed', without the expensive parade."
# # #