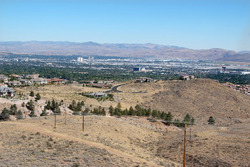 There is still a strong market of buyers out there, even for land; they just need the right motivation
Reno, NV (Vocus) December 10, 2009
The LFC Group of Companies, the leaders in online real estate auction marketing, is excited to announce that their campaign for six residential lots in the renowned community of Reno, Nevada's Caughlin Ranch has entered its seventh day of Last Call®, LFC's patent-pending bid extension process.
"This is when things get really exciting," said LFC's Director of Marketing Kelly Lovegrove. "With Last Call®, the auction keeps going until no more bids are placed. That could mean an extra day, it could mean a week; we've even seen Last Call® go on for almost a month."
During Last Call®, the bidding is transparent and updated in real-time, much like eBay. Last Call® gives bidders additional time to get back in the game, while allowing new bidders the opportunity to participate. It also prevents "sniping," a common online auction practice whereby a final bid is placed in the last seconds of the auction.
The competitive bidding is proof, said Lovegrove, that there are buyers out there who recognize the exceptional opportunity of a developer closeout auction and take advantage of it. "There is still a strong market of buyers out there, even for land; they just need the right motivation," Lovegrove said.
These six residential lots range in size from half an acre to just nearly an acre and the views of the Reno Valley are unmatched. Interested buyers can still place bids during Last Call® and are encouraged to visit http://www.LFC.com/805R3 to view property documentation and conduct due diligence prior to bidding. With Last Call®, the bid deadline is in constant flux, and LFC encourages all interested parties to watch the auction in real-time online.
LFC Group of Companies
For more than 30 years, the LFC Group of Companies has served numerous Fortune 500 companies, real estate developers, investors, financial institutions and government agencies by auction-marketing thousands of commercial, industrial, land and residential properties with an aggregate value well in excess of $5 billion. The company's latest venture is the online auction of mortgage notes.
# # #