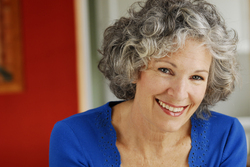 The intent behind Arita's new Santa tradition was to dodge the kind of wounding she had experienced as a child when her own "believing in" fell apart.
Van Nuys, CA (PRWEB) December 10, 2009
As Arita reveals in her new book, The Santa Story Revisited: How to Give Your Children a Santa They Will Never Outgrow, she changed the Santa tradition in order to protect the innocent, both herself and her child, which is a parent's innate right. Mostly, though, the intent behind Arita's new Santa tradition was to dodge the kind of wounding she had experienced as a child when her own "believing in" fell apart. She also claims that she made Santa better by restoring him to what he has always been at his best—a magical story.
The fact is that Arita wasn't concerned about what anyone else thought when she first introduced her then-three-year-old daughter to Santa. When her daughter questioned her about the big jolly elf, Arita found herself caught up in a wave of truth and playfulness that simply and easily led her to a new and celebratory way to enjoy Santa: "Santa is a story and Santa is a game. And everyone can play Santa anyway they want."
It was a special mother-child moment in which she presented her daughter a whole new way to play within a context of honesty. That was all that mattered. Arita's motivation was, after all, to smooth out the edges and make Santa even more fun and magical. And children love to play different roles. They easily and effortlessly move back and forth between the worlds of fantasy and reality.
That was almost 30 years ago and, as Arita soon discovered, her own ideas about Santa as story were only a beginning. Her children took the "expanded" Santa idea and ran with it, in the process teaching her more about playing Santa than she could have ever imagined on her own.
Arita's expanded Santa is honored as the hero of anonymous giving, a hero children instinctively want to emulate. It's a big game in which children can play both roles—giving secretly as Santa as well as receiving from Santa. This perspective easily segues the child into appreciating both sides of the Santa experience and eliminates any expiration date on their enjoyment.
Arita's particular parenting style was one of forging her own path. It's not that she thought of herself as a strong and determined pioneer, but rather the kind of person who didn't want to attract the kind of attention that invites others to weigh in with approval or disapproval. It's a different sort of profile than one might expect for a revolutionary. She says, "I didn't ask permission from other parents because I was concerned that they might think that any change I made to my tradition might threaten theirs. However, as I watched my children play their Santa games, I soon learned that our Santa didn't undermine anyone else's. In fact, it enhanced everyone's experience because the story was always big enough to adapt to any specifics and support anyone's story. No chimney in the house? No problem. The Santa story can always adapt for each child's situation."
Arita has received rave reviews for her book from opinion makers such as Dr. Christiane Northrup (Women's Bodies; Women's Wisdom), Dr. Larry Dossey (Healing Words), Dr. C. Norman Shealy (founder of Holos University Graduate Seminary), Tom Zender (President Emeritus of Unity Churches), Rev. Mary Ann Tumpkin (President of The Universal Foundation for Better Living), and Rev. Wendy Craig-Purcell (Ask Yourself This:Questions to Open the Heart, Expand the Mind and Awaken the Soul).
Today, Arita firmly espouses the belief that she improved Santa and that his reputation as a mentor for acts of generosity and anonymous giving is even more enhance. In The Santa Story Revisited, Arita discusses the importance of storytelling and rites of passage and encourages each parent to personalize their experience and celebration of the holiday season. She also presents sample scripts for parents who want to segue children from a Santa they must believe in to one they can play.
# # #